Rambo 5 Goes Sci-Fi, The Savage Hunt Confirmed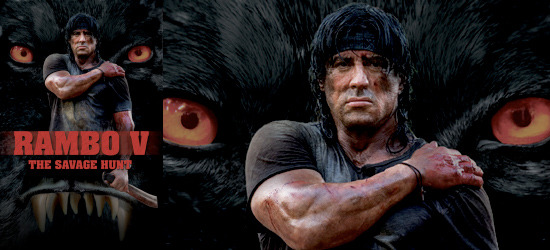 This past week Nu Image/Millennium Films officially announced a greenlight for Rambo's fifth mission, with Sylvester Stallone signed on to return to star and also direct. Stallone had previously hinted that the character would venture into a "slightly different genre," leaving many fans to speculate sci-fi or a more comic bookish approach. But the plot synopsis released to the Hollywood trade papers was something else entirely... and apparently false.
Variety reported that Rambo would fight his way "through human traffickers and drug lords to rescue a young girl abducted near the U.S.-Mexico border." But Sly now confirms to AICN that the storyline is much different than what the trades had reported. Rambo will not be returning to the United States, and the story will instead be set in the Pacific Northwest.
The story involves a secret U.S. military installation where they are doing experiments to create "brilliantly instinctual killer soldiers that have no qualms about taking life." And when things go wrong, Rambo is brought in with a Black Ops squad to hunt, capture and kill these chemically engineered creations. So basically, Rambo will be the hunter instead of the hunted. Head on over to AICN to see the full early concept poster for the new film, which is cropped above. And yes, the working title right now is Rambo V: The Savage Hunt.
Stallone is currently doing post production on The Expendables, but production on Rambo 5 will start in the spring.