Bill Nighy Starring In Neil Gaiman's Silent Film Shoot Location And Time Revealed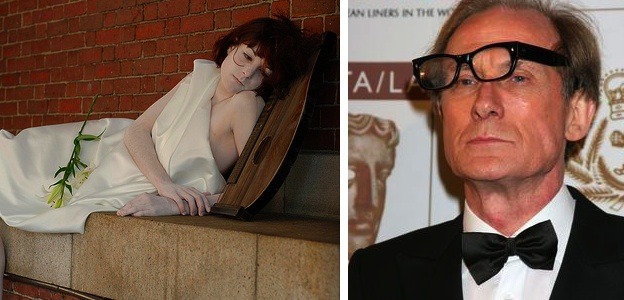 That short silent film which Neil Gaiman is currently in the midst of directing, and as reported on earlier, is to start shooting this Sunday. From the info now available, we know that it's going to be called Statuesque, will star Bill Nighy and Amanda Palmer, pop star and Gaiman's girlfriend, and is one of a series of films commissioned by Rupert Murdoch's UK based Sky TV, each to mark one of the twelve days of Christmas. The film is going to be short, at eight minutes long, and I'm prepared to bet it ends up rather sweet too.
After the break: where and when the shoot is taking place.
Neil clearly doesn't mind an awful lot of folks that look like Neil Gaiman fans (top hats, I'm thinking) walking by in the back or front of shot, as he's come right out and revealed precisely where and when they'll be filming on his blog, right down to providing a postcode.
We'll be at Charter Place in Watford High Street (WD17 2BJ for the curious) and will be shooting on Sunday the 6th from around 11 until 6.00pm.
Spy photos, please.
The film has been described as "a love triangle between two living statues and  admirer who observes his object of affection every day among the Christmas shoppers, unaware that he too is being watched". Ms. Palmer has a song in her repertoire called Perfect Fit, apparently based upon her time pretending to be a statue in Boston (see image at head of post).
I'm rather frustrated with human statues because none of them seem to have any new ideas at all, nor much pride in their craft. I'm not sure what new ideas one could have about standing still and expecting money from the public but I live in hope that, one day, some statue will actually impress me and not just make me roll my eyes.
Richard Eyre, director of Iris and Notes on a Scandal, will be behind another film in the series. Three Kings, will come from a script by William Boyd and no doubt put an interesting spin on those key nativity characters. Yet another of the films has been scripted by Jez Butterworth.
With a combined running time of 96 minutes, these shorts seem pretty much tailored for a second life as an anthology on DVD. I always hope with these anthologies that we'll get a really high quality item as nobody should be overstretching themselves, but all too often it seems that we're just tossed some in-the-margin doodles or off cuts. Here's hoping this one will be very different.