Wichita Details Emerge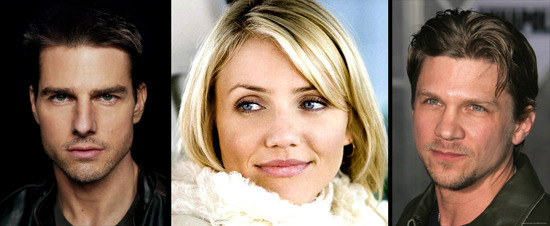 James Mangold's new film starring Tom Cruise, once called Wichita and soon to be called something that might actually entice an audience to plunk down ten bucks, is about to start shooting. On the eve of this auspicious occasion we've got a bit of casting news and some details about one of the movie's big setpieces. First, Marc Blucas from Buffy is signing on. He'll be the ex-boyfriend of Cameron Diaz, the "upbeat Midwestern woman who goes on a blind date with a man (Cruise) who turns out to be a federal agent. She gets pulled into a violent worldwide journey to protect a powerful battery that holds the key to an infinite power source."
More interesting is the setpiece, which probably could be considered spoilerish, so it's after the break.
A commercial 727 will crash in the film (because Knowing didn't already hate travel enough this year) and skid through a field after a conflict in the cockpit causes the pilot to die and/or lose control. Steve Cannaby, who is working on the plane being built for the sequence, says "They're doing a action scene in a ... 727 cockpit. There's some sort of a, like, shoot-out or something that's supposed to happen in the cockpit," quotes Boston production blog LoadedGunBoston. It's one of those things that is probably a lot more interesting to see being created than it might be on film. There's an article here which details how the production is building sections of the jet, planning to move and place them, etc. It's only for those who want to know the nuts and bolts of production, but if you're fascinated by the logistics of making movies, go for it.
Another big setpiece is also planned for the location shoot, which begins around September 15 and runs through Thanksgiving. Reports say that a big chase scene will take place on the Charles River where it winds between Boston and Cambridge. Some of the film takes place in Wichita, some in Indiana (the plane crash) but some must be in Boston, if they're shooting on the Charles. There's no way to make that area look like anything other than Boston.