My 28 Day Movie Trip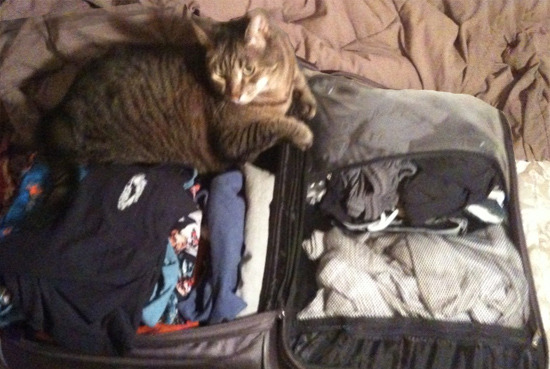 Regular readers of /Film will remember that last year I took a 30-day trip, spanning 4 cities, 2 countries, 3 film festivals and over 70 movies. When I completed the journey, I told myself that I would never do the whole thing ever again. (not that I didn't enjoy myself... it's just 30 Days of movies and traveling is... well.. a lot)
CUT TO: A YEAR LATER.
The offer of donated couches and free floor space in which to crash is impossible to turn down (Thanks Neil and Liam!). I'm packing my bag for the 28-day trip which will span The Telluride Film Festival in Colorado, Toronto International Film Festival in Canada, and Fantastic Fest in Austin Texas (I can't wait to return to the Alamo Drafthouse!). This year I'm planning to do a lot more video coverage, giving you a better look at the whole experience. There are some potentially wonderful films scheduled to premiere, some fantastic interviews scheduled, and I can't wait to share the whole experience with you guys.
I have a confession. I didn't start /Film to become a movie critic. I never ever wanted to become a movie critic. But somehow along the way I've been quoted on posters, dvds, television commercials, trailers and newspapers. I mention this because I want to be clear: My intention on this trip is not to bombard you with countless in-depth reviews to films you will probably never see (although, there will be some reviews).
I've been attending film festivals for the last decade, long before I ever thought about blogging about movies. I love watching films you might never see, out of the box storytelling. I've always loved discovering hidden gems and sharing them with my friends. Over the last few years, you guys have become my friends, and /Film has become the venue for me to share these discoveries.
Last year we discovered Slumdog Millionaire, a film which was at one point Direct-to-DVD bound, in a secret premiere at a small High School auditorium in Colorado. We found a Swedish Vampire coming-of-age film Let The Right One In at the Drafthouse Lamar. We were at the beginning of the buzz for Darren Aronofsky's The Wrestler, before Fox Searchlight snapped it up. I know that in retrospect, these might seem like big films, released by big companies (okay, maybe not Let The Right One In...), but at the time, no one knew where they were or weren't going to go.
And this year I hope to bring you guys along for the journey, to talk with critics and film fanatics from around the world (I'll be rooming with Alex from FirstShowing along the way, so you're sure to see a lot of him as well). So join me as we attempt to venture to the frontline of the buzz and hopefully we can discover the next big medium thing(s) together.