Kick-Ass And The Expendables Release Dates Announced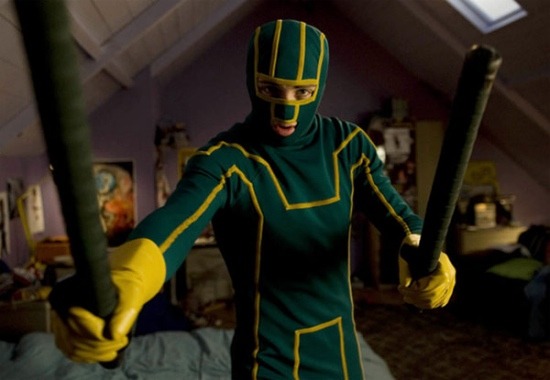 Lionsgate Films has made two big movie release announcements today, for the R-rated comic book film Kick-Ass and the action throwback The Expendables. Details after the jump.
Matthew Vaughn's big screen adaptation of Mark Millar's Kick-Ass will hit theaters on April 16th 2010, scheduled up against Piranha 3-D and MacGruber, and a week after the Sylvain White adaptation of the DC/Vertigo Comics series The Losers. As many of you know, the film was independently funded because none of the studios wanted to tackle the story which fused ultra-violence with children (the be more specific, a 10 year-old who chops bad guys in half and spews vulgar obscenities). The film was bought by Lionsgate after sneak preview footage rocked San Diego Comic-Con International 2009, topping most top ten lists for the Con. We raved about the footage in a previous video blog. After the film sold, I speculated that the movie would take the Mid-March Zack Snyder 300/Watchmen slot, and I wasn't too far off.Kick-Ass tells the story of (beware of possible comic book spoilers) "Dave Lizewski, a kid growing up in a rundown suburb of Americ. He isn't a gamer, he isn't a jock, he isn't a mathlete, he's just a regular kid. When he is not hanging out at the local comic store with his friends Todd and Marty, he is fantasising about his school teacher and Katie Deauxma, the class hottie. The only thing that is unusual about Dave is that about a year ago his Mother died. But somehow through this blend of normality, teenage angst and irritation at being continually mugged, Dave makes the decision to become a superhero' KICK ASS! Dave's first foray into being a Superhero results in him being stabbed and run over. When Dave recovers he realises he can't walk away from being a hero, and when he successfully steps in on a mugging he brings himself to the attention of the US media and Frank D'Amico could this be the guy who knicked his coke? As Dave gets sucked into the dark world of vigilante crime fighting he gains a sidekick named 'Red Mist'."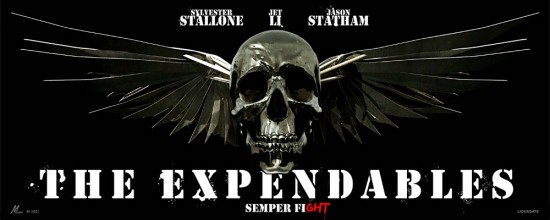 Sylvester Stallone's The Expendables will hit theaters on August 20th 2010. It sucks that we'll have to wait so long to see this film, but the fact that Lionsgate is booking the film for August (even late August), shows that the studio believes they have a Summer movie on their hands. The film features a who's who list of action film stars, which includes: Stallone, Jason Statham, Jet Li, Dolph Lundgren, Eric Roberts, Randy Couture, Steve Austin, Terry Crews, Mickey Rourke, and cameo appearances by Bruce Willis and Arnold Schwarzenegger. The story follows a highly-trained team of deadly combat mercenaries, to go on a mission to South America to overthrow and execute a villainous dictator. Here is the official plot synopsis:
Expendable: capable of being sacrificed in order to accomplish a military objective.
THE EXPENDABLES is a hard-hitting action/thriller about a group of mercenaries hired to infiltrate a South American country and overthrow its ruthless dictator. Once the mission begins, the men realize things aren't quite as they appear, finding themselves caught in a dangerous web of deceit and betrayal. With their mission thwarted and an innocent life in danger, the men struggle with an even tougher challenge – one that threatens to destroy this band of brothers.
Barney Ross (Sylvester Stallone) is a man with nothing to lose. Fearless and void of emotion, he is the leader, the sage and the strategist of this tight-knit band of men who live on the fringe. His only attachment is to his pickup truck, his seaplane and his team of loyal modern-day warriors. His is a true cynic who describes what he does as "removing those hard to get at stains." The team behind him is made up of Lee Christmas (Jason Statham), former SAS and a savant with anything that has a blade; Yin Yang (Jet Li), a master at close-quarter combat; Hale Caesar (Terry Crews), who has known Barney for ten years and is a long-barrel weapons specialist; Toll Road (Randy Couture), a skilled demolitions expert and considered the intellect of the group; and Gunnar Jensen (Dolph Lundgren), a combat veteran and an expert in precision sniping who struggles with his own demons.
When the mysterious Church offers Barney a job no one else would take, Barney and his team embark on what appears to be a routine mission: overthrow General Gaza (David Zayas), the murderous dictator of the small island country of Vilena and end the years of death and destruction inflicted on its people. On a reconnaissance mission to Vilena, Barney and Christmas meet their contact Sandra (Giselle Itie), a local freedom-fighter with a dark secret. They also come to learn who their true enemy is: rogue ex-CIA operative James Monroe (Eric Roberts) and his henchman Paine (Steve Austin). When things go terribly wrong, Barney and Christmas are forced to leave Sandra behind, essentially giving her a death sentence. Haunted by this failure, Barney convinces the team to return to Vilena to rescue the hostage and finish the job he started. And to perhaps save a soul: his own.
Lionsgate made the big announcement, where else? Exclusively on Twitter.