This Week In DVD & Blu-Ray: State Of Play, Heroes (Season 3), And More
We may receive a commission on purchases made from links.
This Week in DVD & Blu-ray is a column that compiles all the latest info regarding new DVD and Blu-ray releases, sales, and exclusive deals from stores including Target, Best Buy and Fry's.
Please don't take the commentary on the movies and TV shows too seriously, as they're meant not to be reviews but rather previews that include the general thoughts and ramblings of a twice-committed DVD addict. The categories represent solely the author's intentions towards the films at hand, and are in no way meant to be a reflection on what he thinks other people should rent or buy. So if he ends up putting a movie you like in the "Skip it" section without having seen it, please keep in mind that the time you could spend leaving a spiteful but ultimately futile comment could instead be used for more pleasant things in life. Like buying DVDs.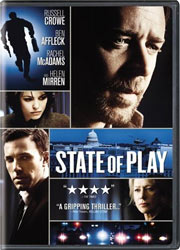 STATE OF PLAY
A love note to newspapers and old-school reporting, State of Play overcomes its more conventional aspects–most of which relate to the overall murder mystery/conspiracy plotline–with a fascinating (if not altogether realistic) look at investigative journalism and one man's attempts to discover the truth. If that too sounds at all familiar to dozens of other thrillers following the lone-protagonist-trying-to-unravel-a-conspiracy story arc, that's understandable, as even those aspects of the film tread familiar waters. In this particular respect though, the similarities are mostly superficial. Rarely before has the process of finding out information been handled so thoughtfully as in State of Play, and with such great pacing and intelligence. This movie is popcorn entertainment at its finest. On the surface, it's a thoroughly engaging thriller that's both well-written and directed, but look past the glossy veneer, and it also addresses a number of thought-provoking issues such as how people consume news and the current state of journalism. It's well worth a watch.
Blu-ray? Yes.
Notable Extras: DVD & Blu-ray – Making-of featurette and deleted scenes.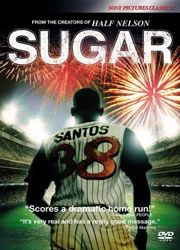 SUGAR
The second film from Half Nelson writers/directors Ryan Fleck and Anna Boden, Sugar tells the story of baseball star Miguel Santos, a poverty-stricken Dominican pitcher who's recruited to play in the U.S. minor-leagues. Having written an article several months back about this exact type of overused "true story" storyline in recent sports films, I'm excited to see if (much like Darren Aronofsky did with The Wrestler) Fleck and Boden step away from that artificial Hallmark card melodrama to a deliver something more honest and heartfelt. If the film's staggering critical acclaim is any indication, I don't think I'll be disappointed.
Blu-ray? Yes.
Notable Extras: DVD & Blu-ray – Two featurettes, deleted scenes, and a screen test/interview with Algenis Perez Soto.
SIN NOMBRE
Sin Nombre is the feature debut for writer/director Cary Fukunaga, a Spanish film which surprised many during its world premiere at this year's Sundance. Since then, the movie has earned itself an extremely positive reviewing ranking of 88% on Rotten Tomatoes, and currently holds a 7.6 on IMDB. The story follows the joining together of two teenagers, one from Honduras and one from Mexico, who make their way atop a States-bound freight train along with other immigrants in hopes of finding a better future.
Blu-ray? No.
Notable Extras: Commentary with director Cary Fukunaga and producer Amy Kaufman, and deleted scenes.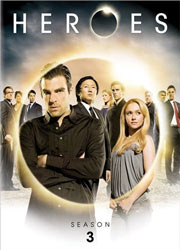 HEROES (SEASON 3)
Word-of-mouth has suggested that, after the dismal beginnings of Season 3 of Heroes, the show started to find its footing once again. I wish I was able to confirm this for myself, but given that there's only so much punishment I can take before saying, "Fuck it", I realized that I'd probably be better off simply forgetting everything that's become of the show from the first season's lackluster finale onward. It had become too much of a mockery of itself to enjoy anymore. The series may have never been the pinnacle of brilliant storytelling and character development, but only in watching the show now did it become clear how poor the writing could really be. At least in the show's first season, the characters acted like rational individuals with believable motivations, and the plot expanded in a way that felt consistent and always seemed to be striving for a specific end goal. Now, characters act in whatever ridiculous manner that the writers need them to while the storyline hops between as many crazy plot twists as can be fit in an episode, despite those plot twists never actually going anywhere. I can only imagine the writers started doing this for one of two reasons: (1) they're trying to keep the show fresh, or (2) they're making shit up as they go along. My money is on the second one.
Blu-ray? Yes.
Notable Extras: DVD – Cast and crew audio commentaries, deleted scenes, featurettes ("The Super Power of Heroes", "Completing the Scene", "The Prop Box", "Genetics of a Scene", "The Writers' Forum"), alternate stories, and a Tim Sale Gallery of Screen Art. Blu-ray – Includes everything on the DVD, as well as additional U-Control features (Picture in Picture Cast & Crew Commentaries, Hero Connections – Bios), a Building Coyote Sands featurette, and a Pinehearst Commercial.
EXCLUSIVE DEAL:
What? Bonus DVD with 3 episodes of Heroes Unmasked.
Where? Target.
EXCLUSIVE DEAL:
What? Heroes Revealed book on-package with purchase of DVD.
Where? Best Buy.
Other noteworthy DVD (and Blu-ray) releases this week...
Disney Nature Earth [DVD / Blu-ray] – America – Supernatural (Season 4) [DVD / Blu-ray] – Desperate Housewives (Season 5) – CSI (Season 9) [DVD / Blu-ray] – Rescue Me (Season 5, Vol. 1)
Other noteworthy Blu-ray-specific releases this week...
Gladiator – Braveheart – Monster – M*A*S*H

NOTE: Some deals may be in-store only.

Exclusive: Supernatural (Season 4) (DVD – $37.99 – Blu-ray $49.99) includes bonus DVD with 45-minute panel discussion at Comic Con and more.
Exclusive: CSI (Season 9) ($64.99) includes free $10 Target Giftcard.
$18.99 – Heroes (Season 1 – 2)

Exclusive: Save $10 when you buy both Gladiator ($22.99) and Braveheart ($22.99) together on Blu-ray.
Exclusive: Desperate Housewives (Season 5) ($37.99) includes "Wisteria Lane Mystery Club" bonus disc with exclusive content.
$19.99 – Heroes (Season 1 – 2), It's Always Sunny in Philadelphia (Seasons 1,2 – 3), Rescue Me (Seasons 1 – 4), Smallville (Seasons 1 – 7), Supernatural (Seasons 1 – 3), and more...
$39.99 – Blu-ray sale: True Blood (Season 1)
$9.99 – The Dark Knight, Tropic Thunder, Iron Man, Kung Fu Panda, Hancock, and more...