Keanu Reeves To Star In And Produce Henry's Crime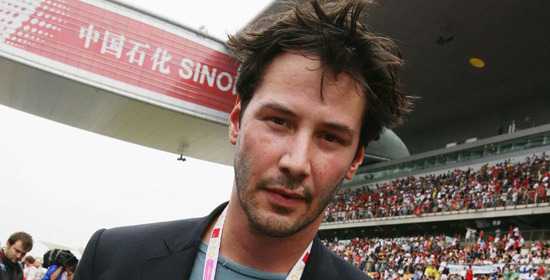 Months ago, The Playlist mentioned that Sacha Gervasi, producer and director of Anvil! The Story of Anvil had written a film called Henry's Crime, and that Keanu Reeves was attached to star. (Reeves is evidently a big fan of Gervasi's rock doc.) Now the trades have finally confirmed the deal, and Reeves will start work on the film in November.
Variety calls Henry's Crime a romantic comedy, which with Reeves in the lead doesn't do much for me. But going back to what Gervasi said in April, things get a little more interesting. "It's a twisted, romantic comedy, very dark and funny and Keanu is the lead," he said. Reeves will play "a Buffalo toll both attendant in the middle of an existential crisis." The trade, meanwhile, calls the film a "Capraesque romantic comedy" about "a bighearted man who is falsely accused of robbing a bank in Buffalo." I don't know director Venville's work, but I've been curious about his completed film 44 Inch Chest. That's a UK crime picture written by the guys that wrote Sexy Beast and starring John Hurt, Ian McShane, Ray Winstone and Tom Wilkinson.
Gervasi, meanwhile, has a few potential projects on the burner, but the most likely still seems to be My Dinner with Herve, the biopic about Herve Villechaize. Yeah, the Fantasy Island actor. Gervasi was the last journalist to interview Villechaize before he committed suicide in 1993 and Gervasi developed the film with Steve Zaillian. (The 'interview' was three days worth of interaction, not just an hour over coffee.)
Herve wasn't just a pop culture icon," Gervasi told Variety last year. "He was one of the most charming, cultured and dangerous people I've ever met. His is the story of a unique misfit trying to find his place in the world.
Gervasi has talked about Peter Dinklage as the star of that movie. Obvious casting, sure, but Dinklage is so great I don't see how anyone could complain.