Jerry Bruckheimer Buys Online Short Story 'Shake' For Seven Figures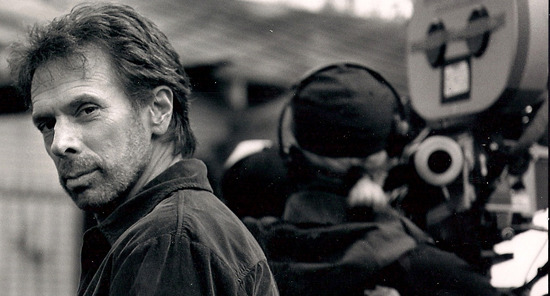 Jerry Bruckheimer has purchased the rights to Shake, a short story by Wanted co-writer Derek Haas. The short tale first appeared on Popcorn Fiction, a website created by Haas for screenwriters to show off short bites of hard-boiled fiction. The deal is reportedly in the seven-figure range, so what the hell is in there that makes Bruckheimer think it is worth a million-plus?
THR reports the deal, but the real place to check out is the actual story on Popcorn Fiction. It's a very short deal that would likely be expanded to a first-act setup. Essentially, FBI agent Tim Cooper and his partner are in LA to track down a thin lead pointing towards Trevor Stacks, a brutal and elusive serial killer that has been their target for years. Two things come to pass, however. One is the revelation (to us) that Cooper is beginning to suffer the effects of Parkinson's Disease. The other is something you can read the story to discover. But it is definitely the setpiece that got Bruckheimer to cough up so much cash. Until that point, the deal is pretty confusing. Then the thing happens and, while I can't get so exicted about it, I can at least see the thinking.
And this dovetails, oddly, with another film called The Dying of the Light. It's a possible Nicolas Winding Refn film, based on a script by Paul Schrader. A Danish report last month says that Robert DeNiro is attached to star. The logline is "A CIA agent about to retire due to Alzheimer's races the clock on a final mission." So there you've got a CIA agent with Alzheimer's, here you've got an FBI agent with Parkinsons. Why not just team them up? Buddy picture! What does it say about me that I really would see that in a second? Especially if they used the Otis Redding song as the theme. (I hadn't known about the Refn film; my friend Ned at the awesome Brattle Theatre IMd me about it, coincidentally, just as I was writing this piece.)
Edit: The story has been taken down for the time being, though Google Cache will probably still have it for a few hours. Here's the recap.Spoilers follow.
Basically, this lead that Cooper and his partner are tracking is really thin — an old woman who has called tip lines with bogus stuff in the past. But Cooper's daughter is in LA for school and he wanted to see her, so that really motivated the trip. As he and his partner talk we get some details of Cooper's relationship with his daughter, and the fact that he's trying to hide the Parkinson's, and his first earthquake experience in LA. They go to the woman's house to check out the tip and and first think it is BS. But her behavior is odd, and they enter to find that Stacks is indeed there. Cooper's partner is wounded but they capture Stacks, who reveals that he has come to LA to hunt Cooper's daughter. While they're on the 405, a seriously cataclysmic earthquake shock hits,waving the highway around like a ribbon. When Cooper comes to, his partner is dead and Stacks is gone.