Rambo 5 Gets The Greenlight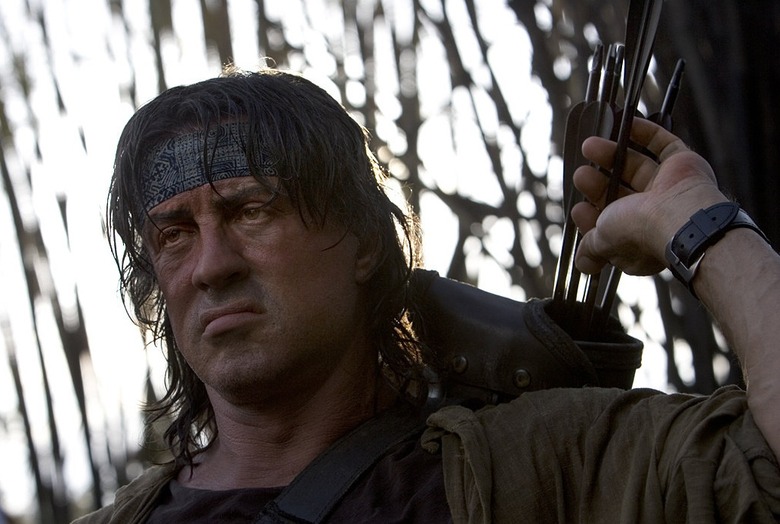 After the successful release of Rambo 4 (which was released under the simple title Rambo), there has been a lot of talk about making a possible fifth film. Stallone had hinted that he hopes to take the character into a "slightly different genre," leaving many fans to speculate sci-fi or a more comic bookish approach. He later was quoted as saying that "this is the last Rambo just as Rocky Balboa is the last Rocky." Yeah right...
Nu Image/Millennium Films have officially announced a greenlight for Rambo's fifth mission, with Sylvester Stallone signed on to return to star and also direct. No word on if Stallone will also write this latest adventure, but I would say it's a strong possibility considering that he wrote the screenplays for the previous films.
So what is the new movie going to be about? According to Variety, Rambo will fight his way "through human traffickers and drug lords to rescue a young girl abducted near the U.S.-Mexico border." Doesn't sound like the big departure that Sly had previously promised (but then again, he also said that there would never be a fifth Rambo film).
Earlier this year, the not-so-reliable British tabloid paper The Sun reported that Mickey Rourke had agreed to play the villain in a fifth Rambo. There has also been rumors that Stallone was looking to film the sequel in the Bulgarian capital of Sofia, which would
actually serve as Rambo's hometown "somewhere in Arizona." I'm not sure if those were totally bunk, but it sounds like it.
Stallone is currently doing post production on The Expendables, but production on Rambo 5 will start in the spring.