Casting Notes: Robin Williams In Wedding Banned, Maggie Grace In Wichita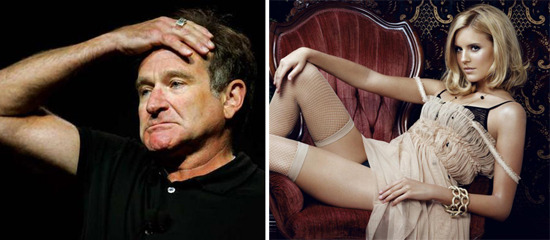 For those who've wondered what happened to Page 2, it isn't gone. The last couple weeks have just been so slow that there isn't enough to fill up a Page 2 post. (It's the end of the summer; expect news to pick up in a couple weeks as the festival season kicks in.) So in the meantime enjoy these casting notes roundups. Today we've got news of Robin Williams and Maggie Grace joining new projects, after the break.
First up, THR reports that Robin Williams will be part of a Touchstone romantic comedy called Wedding Banned, which I'm tempted to hate based on the title alone. There's no director yet for the film, which was written by Jack Amiel and Michael Begler. Film is about "a long-divorced couple who kidnap their daughter on her wedding day to prevent her from making the same mistakes they did. The divorced parents rekindle their relationship as they elude cops and the angry groom."
And this is just after I got all hopeful for Robin Williams again after finally seeing the excellent Bobcat Goldthwait film World's Greatest Dad. He's so good in that, so reserved and ideal for the role. That one is available on demand right now, and opens in a few markets this weekend, with an expansion plan taking place over the next couple weeks. Please see it.
Meanwhile, THR also has news of Maggie Grace joining Witchita (which the trade is reporting as 'untitled Witchita project'), the James Mangold movie that won the attention of star Tom Cruise over a host of other possible projects. Grace will play the sister of Cameron Diaz, "a lonely woman whose seemingly harmless blind date suddenly turns her life upside-down when a super spy (Cruise) takes her on a violent worldwide journey to protect a powerful battery that holds the key to an infinite power source." I think this is the first time I've really read a plot synopsis for the film, and now I'm feeling like I'm 0-2 in interest for films in this post right now. Can't win 'em all.