VOTD: John Lasseter Answers Pixar/Disney Fan Questions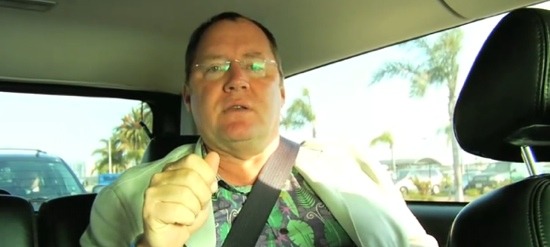 At San Diego Comic-Con, Disney announced that they would begin reaching out to fans through social networking, and asked fans to submit questions for John Lasseter to answer. At the time, I assumed that it would be that bland corporate presence page that every company puts up. I mean, what do you expect from Disney? I was wrong.
Disney has been posting short videos with Lasseter's responses to fan questions on DailyMotion. The thing I love about the videos is that they obviously aren't practiced. There is no DP, no script and no production value. It's personal, and everything you wouldn't expect from a Disney sponsored corporate production. I hope someone at Disney doesn't read that and think it's a bad thing, and make the whole thing a grand production.
The first batch of videos thus far were simply taped in a car that was taking Lasseter from the San Diego Convention Center to the airport. A camera guy is in the front seat, and Toy Story 3 director Lee Unkrich makes a brief appearance, although for most of the videos he's quietly sitting off screen in the right hand passenger seat. And most of the questions seem real, not just expected soft balls invented by Disney publicity. Lasseter is even asked when will we see a female lead in a Pixar film, a criticism which has come up more often in recent years. After the jump, I've included all nine of the questions that Lasseter has answered thus far.
When will we see a female lead in a Pixar movie?
Who wrote the story for Up? (how does Pixar's development story process work?)
What does the Pixar easter egg A113 mean?
Does John Lasseter and Lee Unkrich like Monkeys?
Is the lamp in Luxo Jr. a mamma lamp or a daddy lamp?
Any advice for aspiring animation students?
What's the secret to brining inanimate objects to life?
What is John Lasseter's favorite joke that he liked to tell when he was a tour guide on the Jungle Cruise in Disneyland?
Why did Up have such a serious beginning?