Casting Notes: Christina Hendricks And Hayden Christensen Join New Projects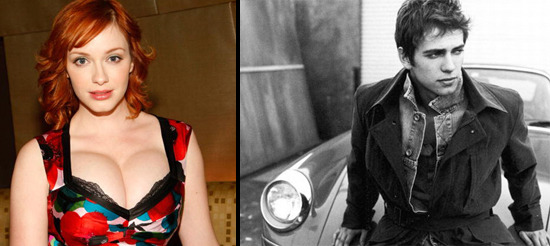 Here are two quick casting notes that, in a busier week, might normally just make Page 2. But hell, any excuse to post a photo of Christina Hendricks is a good one, so I'm going to run with this. Also, news on Brad Anderson's (Session 9, The Machinist) new project, which just got Hayden Christensen in the lead.
First up, Hendricks has been cast opposite Katherine Heigl and Josh Duhamel in the romantic drama (not even a romantic comedy, it seems) called Life as We Know It. The film, to be directed by Greg Berlanti (Everwood, Dirty Sexy Money and Green Lantern producer) follows "two unattached adults whose worlds are turned upside down when their mutual best friends die in an accident and name them as caregivers of their orphaned daughter." Hendricks is the best friend of the two leads, so does that mean she's the one that dies? Why do you cast Hendricks just to kill her off? Ride that Man Men popularity wave! [Variety]
Anyway, moving on.
Anderson's new film is called Vanishing on Seventh Street, and it will bring the director back to shoot in America after a couple of features abroad. Well, almost America — the picture will shoot in Detroit. (No offense to Detroit residents.) Christensen will be a reporter, perhaps opposite Thandie Newton and John Leguizamo, who are both in negotiations to co-star. Anderson wrote the script with Anthony Jaswinski, and THR says it is "set in a once-thriving city where shadowy forms cause residents to inexplicably disappear. Five survivors fight to stay alive while grappling with the meaning of existence."
Sounds kind of great, to me; has sort of an old Val Lewton vibe, between the title and the logline. Anderson can do some great creepy work when he hits (disclaimer: having worked on Session 9, I'm hardly objective here) but isn't always on point. Hopefully this will be one of the good ones; I like shadowy forms in crumbling cities.