Heathers: The Television Show?!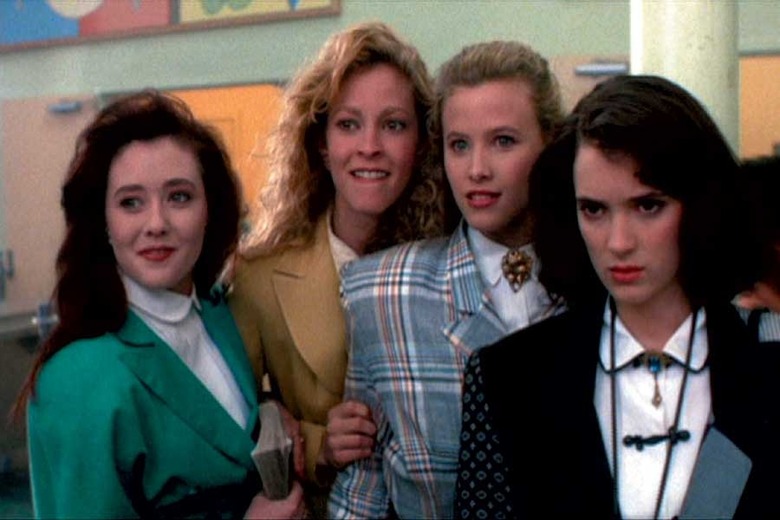 What is your damage, Hollywood? The good news is that Hollywood is not remaking Heathers for the big screen, although they did consider it. The bad news is that Fox and Sony are re-imagining the 1989 high school dark comedy into a television series.
Disclaimer: The original Variety story is not very clear at all, and never clearly states if they are remaking Heathers as a television movie or as a television series. In the article, Lakeshore's Gary Lucchesi says they had " talked about doing a film remake at times, but doing it for TV seemed like a fresh and original idea." I don't see how a television movie could be fresher or more original than what they could've done in a big screen remake. So I assume they are talking about doing it as a television series.
The original Michael Lehmann film starred Winona Ryder, Christian Slater and Shannen Doherty, and told the story of a popular High School mean girls clique which is turned upside down when Veronica (Ryder) falls for a new boy in town named JD (Slater) and the "Heathers" begin to die off, one by one. JD and Veronica cover up the "accidents" by making them look like suicides. I have no doubt the idea to revive this property stemmed from the recent release of World's Greatest Dad, which is also a black comedy of morbid proportions.
Mark Rizzo (who has only one credit, writer of an NBC pilot Zip) is currently working on a script for the television adaptation, which is expected to include the main characters from the cult classic. But the concept, even today, seems a bit too dark, even for prime-time. I can't imagine that the television series version will have the same dark comedy kick of the original film. Lets hope they don't turn this into just another angst-infuded teen series, ala 90210.
A few months ago, Winona Ryder told Entertainment Weekly that a sequel to Heathers with Christian Slater coming back "as a kind of Obi-Wan character" was in the works, but Michael Lehmann denied the development. I wonder if this Obi-wan idea was something that was/is being developed for the television series.
While I'm not as gung-ho against this project as I am most remakes, a television series adaptation just seems pointless — especially if it's not on Showtime, HBO or AMC. Not that I'm supporting the idea of a big screen remake of Heathers, but at least a feature film could push new boundaries. Although, the original movie involved JD bringing a gun to his high school, and firing it at a bunch of school bullies. Sure, it was filled with blanks, but I somehow doubt that plot point would make it to the big or small screen in today's politically correct obsessed world.