2012 Japanese Trailer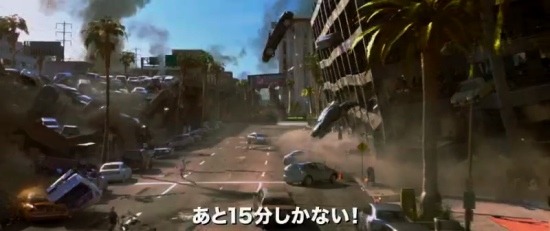 It must be trailer week at Sony Pictures International. Yesterday they released an international trailer for Zombieland, and today they've released a new Japanese trailer for Roland Emmerich's new disaster flick 2012. It might start off similar to the previously released domestic trailer, but about half way through we begin to see a lot of scenes and sequences we haven't seen before. We also begin to learn more about the story — where are the main characters going? How will they survive? The countdown clock is introduced.
To be honest with you, I'm more excited for this film than I should be. Yes, I'm not expecting a great movie, or even a good story, but the sequence we saw at Comic-Con with a limo outrunning an earthquake was so ridiculous, yet fun in all the ways that Transformers 2 should have been, but wasn't. Check out the new Japanese trailer embedded after the jump. Leave your thoughts in the comments below.
[flv:http://media2.slashfilm.com/slashfilm/trailers/2012_trailer3.flv 550 230]
Never before has a date in history been so significant to so many cultures, so many religions, scientists, and governments. 2012 is an epic adventure about a global cataclysm that brings an end to the world and tells of the heroic struggle of the survivors. Starring John Cusack, Chiwetel Ejiofor, Danny Glover, Thandie Newton and Oliver Platt. 2012 hits theaters on November 13th 2009.
via: Sony