Bored To Death Full Trailer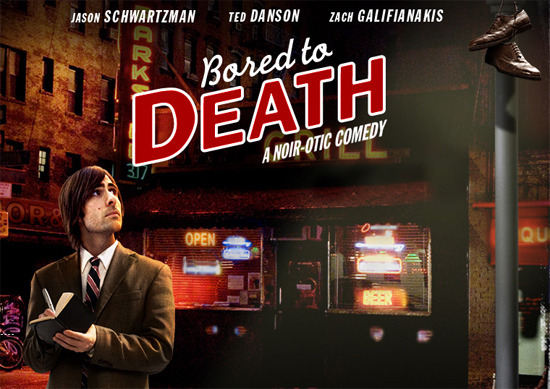 HBO has premiered a full trailer for the new television series Bored to Death, which is being billed as "A Noir-otic Comedy". Jason Schwartzman stars as Jonathan Ames (well, not the real Jonathan Ames, although he is a writer on the show), an alcoholic noir-fiction-obsessed writer who impulsively decides to become an unlicensed private detective. The show also features Zach Galifianakis (The Hangover) as Ames' best friend Ray, a comic book writer, who along with Ames' editor (played by Ted Danson), winds up tagging along for a few detective cases. Seems like a great concept for a television show.
The trailer also features guest appearances from John Hodgman (Daily Show, Mac ads), Patton Oswalt, Kirsten Wiig, Parker Posey, Bebe Neuwirth, Oliver Platt and while I didn't notice her in the trailer, IMDb also lists the wonderful Olivia Thirlby. And if you're not sold yet... Paul Feig, of Freaks and Geeks, The Office and Arrested Development fame, directs a couple episodes. Check out the trailer now embedded after the jump. Leave your thoughts in the comments below.
Bored to Death premieres on HBO on September 20th at 9:30pm.
via: rushmore academy