The House Of The Devil Movie Trailer (And Horror Poster Of The Year?)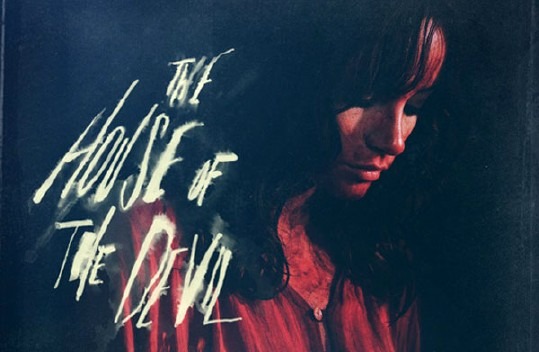 These days, we find any stylish throwback poster for a genre movie refreshing. Mondo Tees can't create them all. So, when the following poster reached our inbox, it was a nice surprise. What's more, the poster is for a new horror flick that's projected a nice dark stream of buzz online. Entitled The House of the Devil, it was recently acquired by the tastemakers at Magnet/Magnolia, responsible for the domestic release of Timecrimes and the upcoming Bronson, both /Film-approved. Judging by the trailer below, the film could be a sweet modern companion to The People Under the Stairs and '80s crazed-righteous-caretakers horror.
The film is set for an unorthodox release; dropping October 1st on Xbox Live and Amazon, with a theatrical release the day before Halloween. Before we dish the plot, we recommend cold-watching the trailer. For the first few seconds, it plays like a standard vapid-babysitter slasher, but climaxes hard into Creepsville. Bonus: the foreboding presence of character actor Tom Noonan (Where the Wild Things Are, Synecdoche New York).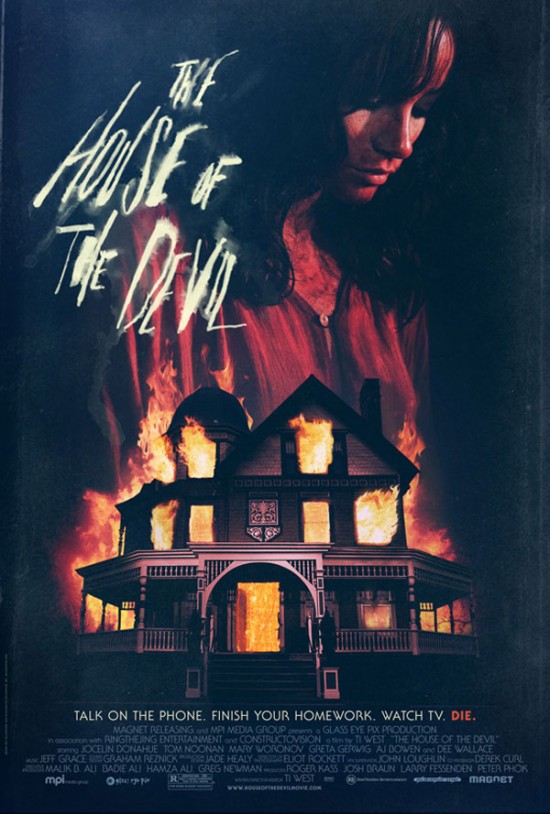 Look at that. Wow. Font boner. We need to mention that our pals at Vulture had first dibbs on the image. With the exception of the cheesy tagline at the bottom—which befits an '80s flick like When a Stranger Calls—the poster seems to pay homage to the druggy, deranged art of Italian frightfests of yore.Official House of the Devil plot synopsis: "In the 1980s, college student Samantha Hughes takes a strange babysitting job that coincides with a full lunar eclipse. She slowly realizes her clients harbor a terrifying secret; they plan to use her in a satanic ritual. "
The movie is directed by Ti West, who practically received a key, albeit not one to the gates, from the horror community for his 2005 film The Roost. Chime in if you've seen it. West also helmed this year's Cabin Fever 2, the sequel to the lil' indie that unleashed Eli Roth and so forth. One of the actresses in the trailer is Greta Gerwig, whom a few guys and girls may recognize if they tolerated Baghead in hopes of a nude scene. Here's what a few critics have to say...
"It could easy be billed as a true "lost" horror film from the 80's." – Brad Miska, Bloody-Disgusting.com
"...clearly the American indie-horror flick of the year. Sure, the year's only half over, but I have a very hard time believing anyone is going to beat this slow burning throwback to 80s religio-terror." – Todd Brown, Twitchfilm
...I don't celebrate Saw on Halloween, so I'm looking forward to this. /Film will have more info regarding this picture when applicable.