Black Dynamite To Get Fall Release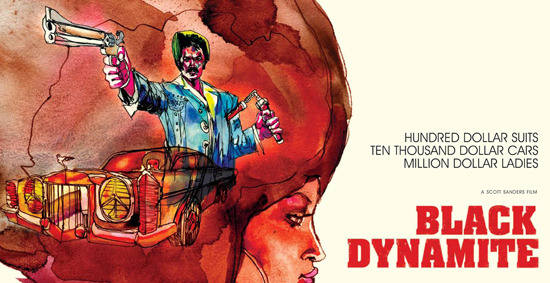 Black Dynamite generated a hell of a lot of press based solely on a trailer, and played well at Sundance and better at the Seattle Film Festival, where it won the Audience Award. Sony picked up the film at Sundance, and a release in the latter half of this year has been the target, but Sony always wanted a distribution partner. Now, as Variety reports, they've got one, in the form of new kid on the block Apparition. Now you'll definitely get to see Black Dynamite in at least some theatres come this October.
Apparition is making a lot of news. The label already has Jane Campion's Bright Star, The Young Victoria, starring Emily Blunt and some little thing called The Tree of Life with Brad Pitt, directed by Terrence Malick. Black Dynamite turns the slate into something that looks pretty varied and willing to take chances, though the film will probably still be angled at the arthouse crowd. Just the arthouse crowd that can appreciate blaxploitation. I still wonder if this isn't a movie that plays better as a trailer than an actual feature, but is that going to stop me from checking it out come October 16? Hell, no.
Black Dynamite is the love child of writer/star Michael Jai White and writer/director Scott Sanders. Here's the plot:
This is the story of 1970s African-American action legend Black Dynamite. The Man killed his brother, pumped heroin into local orphanages, and flooded the ghetto with adulterated malt liquor. Black Dynamite was the one hero willing to fight The Man all the way from the blood-soaked city streets to the hallowed halls of the Honky House.
All you really need to see, though is the trailer. Sadly, some of the great red-band trailers that were around earlier this year have been taken down since Sony bought the picture, but here's one green-band trailer that kinda gets the point across. (There's still a red band one here, but it looks like a sales trailer made before most of the film was actually shot.)