New Toy Story 3 Cast? Cars 2 Adds 'World Grand Prix' Subtitle?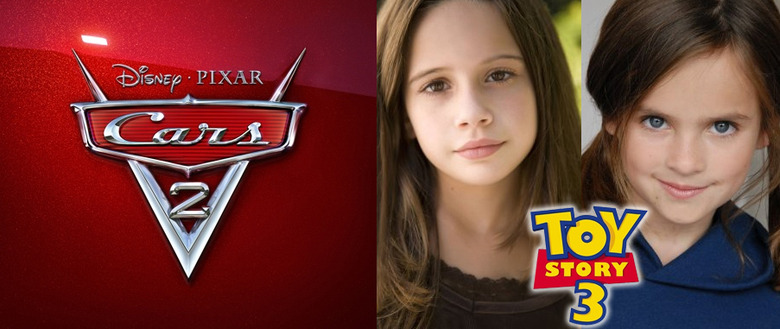 There is a bunch of Pixar tidbits I missed in the last few days that I've noticed not too many sites have picked up on. Possible new additions to the Toy Story 3 cast, director Lee Unkrich talks about the visual improvements to the third film in the trilogy, and is Cars 2 getting a new title?
First up is about the look of the new film. Director Lee Unkrich did an interview with HitFix and talked breifly about how the new film will look in comparison the the older two films:
We couldn't make a "3" that looked completely different than the first two; however, as a studio and both technologically and artistically, we've made great strides over the last fifteen years.  I mean, you look at "Ratatouille," it's just a gorgeous, gorgeous film.  And so you want to take advantage of that, but at the same time, you want the world to feel familiar, so that was one of our big challenges at the beginning, working... luckily I had Bob Pauley who was the original production designer for the first "Toy Story".  He designed Buzz Lightyear.  He's my production designer on this film.  We all worked very hard to have the world... and it's a constant challenge to have the world feel familiar, but to take advantage of what we can do now artistically.  So if you look at "Toy Story" and then "Toy Story 2," there was a big leap in the look of the film.  You know, just to be geeky, we were able to use depth of fields, which is something we couldn't do on the first film at all.  Suddenly we could use focus and depth to augment our visuals.  We've made even more exponential leaps doing "3".  We had to rebuild everything.  It's not like these characters were sitting on a disk somewhere waiting to be used again.  We had to rebuild them completely from scratch, and along the way we were able to give them more sophistication in their look and in their controls.  But the other thing is that the animators at our studio have gotten... they're just phenomenally talented.  They've gotten so much better than they were on the earlier films.  But I have to restrain them because Woody needs to behave like Woody.  Buzz needs to behave like Buzz.  I can't have them suddenly feel like a little human, you know, come alive.  So it's a... yeah, it's a constant battle.  It's a fun challenge to have it feel like "Toy Story." but have it look really kick-ass.
Next up, UpcomingPixar noticed that a couple new names have begun to appear on the Toy Story 3 IMDb page. While this is no where near a confirmation, it does seem to fit what we've been hearing in terms of characters. And truth is, you've never heard of these actresses before, they're virtual unknowns. The interesting part is the characters they play. Young child actress Beatrice Miller will be playing Andy's sister Molly, who briefly appeared in the previous Toy Story films as a baby. But in Toy Story 3 she will be a bit older (no real surprise), probably around age 10. The actress that will provide her voice has credits on Ice Age: Dawn of the Dinosaurs. Another new name on the casting list is another unknown childhood actress named Emily Hahn, who will be playing a character named Bonnie. No more information is provided. So who is "Bonnie"?
And finally, Jim Hill has noticed that the Walt Disney Company just registered a few new Pixar related domain named this past week:
CARS2-WORLDGRANDPRIX.COM
CARS2WORLDGRANDPRIX.COM
CARSWORLDGRANDPRIX.COM
WORLDGRANDPRIX-MOVIE.COM
Will the Brad Lewis-directed Cars sequel be retitled Cars 2: World Grand Prix? You might recall that sequel will follow Mater the tow truck, who gets his passport and takes a worldwide trip with Lightning McQueen. So the name fits. I'm betting we'll find out at the D23 Expo in September. Cars 2 isn't set to hit theaters until summer of 2011.