Hear The First Song From The Where The Wild Things Are Soundtrack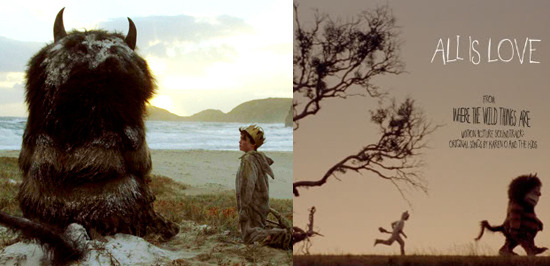 The first track from the soundtrack to Spike Jonze's Where the Wild Things Are is available for streaming at MySpace. The song is credited to Karen O and the Kids, and in this case the name is quite literal. Karen O, from the Yeah Yeah Yeahs, worked on the music with a host of different artists, but this track features a raw childrens choir as one of the primary 'voices'. More details after the break.
You've already heard snippets of this music in the second full trailer and in that behind the scenes featurette debuted at Comic Con, but the entire song is tasty on its own. There's a real Arcade Fire sort of underpinning to this track, so you've got to wonder if Karen O's songs are what pushed that Arcade Fire song to be used in the first trailer. This track sounds nicely appropriate to the film, based on what footage I've seen so far. It's bouncy and upbeat, but with a vague undercurrent of something darker. (Not unlike a Flaming Lips song, in that respect.) Not long ago, Karen O told Nylon, "We wrote music that would be easy for kids to sing along with. The songs have that innocence and spirit with poppy hooks here and there. Simple, emotional, sweet stuff."
The Playlist had more details on the soundtrack, which is evidently a totally different beast from Carter Burwell's composed score. Accompanying O on various tracks is a crazy collection of indie rock luminaries:
members of the Yeah, Yeah, Yeahs, Bradford Cox (Deerhunter, Atlas Sound), Imaad Wasif (Yeah Yeah Yeahs/Folk Implosion collaborator), Jack Lawrence (The Raconteurs, Dead Weather), Dean Fertita (Queens of the Stone Age, The Dead Weather, The Raconteurs), Aaron Hemphill (Liars), Greg Kurstin (The Bird and the Bees), and Oscar Michel (Gris Gris).
This track will be available to purchase as a digital single tomorrow, Tuesday August 25, and the full soundtrack album will arrive on September 29.