Cool Stuff: Lost: Season Five Dharma Initiation Kit DVD/Blu-Ray Collector's Set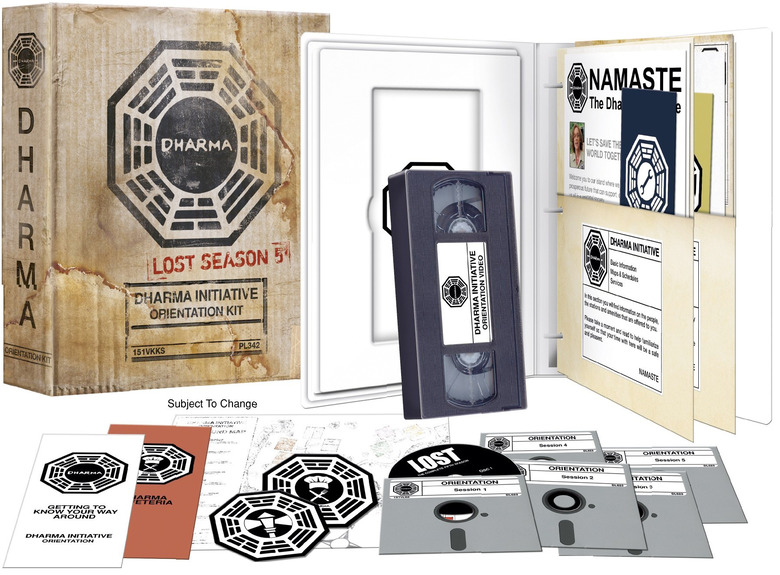 We may receive a commission on purchases made from links.
Attention Lost fanatics: ABC is releasing Lost: Season Five in a limited edition collector's set called Lost: The Complete Fifth Season Dharma Initiation Kit. Click on the image above to enlarge.
Full details have not been released as to what will be included with the limited edition package, but the concept artwork (subject to change) comes in an aged and worn packaging featuring the Dharma logo. Included inside is a VHS tape labeled "Orientation Video", some Dharma pamphlets, maps, Dharma patches , and the DVDs (or blu-ray discs) which come housed in cases that look like 5 1/4 floppy discs.
The set will hit store shelves on December 8th 2009, just in time for Christmas and the season premiere in early 2010. The DVD set is available for preorder on Amazon for $77.99, 35% off the $120msrp. The Blu-Ray set is available for preorder on Amazon for $93.99, 30% off the $134msrp.
Cool Stuff is a daily feature of slashfilm.com. Know of any geekarific creations or cool products which should be featured on Cool Stuff? E-Mail us at orfilms@gmail.com.