Dakota Fanning Off To Oz As Todd McFarlane's Dorothy?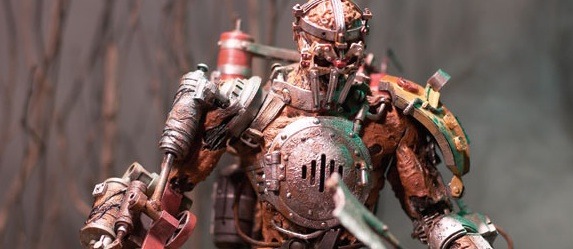 Two years and one day ago, Peter told you about Warner Bros. intention to bring a new version of The Wizard of Oz to the big screen. The studio had licensed Todd McFarlane's Twisted Land of Oz action figure series, which portrays Dorothy as something of a bondage fanatic and the Tin Woodsman as the frightening man-chine at the head of this post, and set Josh Olson about writing a screenplay. At that time Olson was quoted as saying:
I want this to be Harry Potter dark, not Se7en dark.
Since then... nothing. Today, though, the story has resurfaced in a British newspaper. Does this mean that we're on the verge of seeing this project come into the light?
According to The Sunday Express, filming on this new Oz "could start next year" and Dakota Fanning is "being tipped" to play the lead. This might be new information, but it's basically sourceless and very possibly truthless. The only material in the Express' story to not be two years old but to lead to another source is a quote from producer Basil Iwanyk:
It will be set in the present day and feature Dorothy's granddaughter.
Which can be traced back to a Screen Daily article from earlier this month. There, the full quote ran:
And because we're in the world of 'I have no shame', we're doing the next chapter in The Wizard Of Oz, which will be set in the present day and feature Dorothy's granddaughter.
So, in essence, what I'm telling you is that the Express journalist has simply pulled together some existing quotes and added some empty 'maybe, perhaps' tips in regards of the casting and shoot date. I'd say that Dakota Fanning is no more or less likely to star in this film than Anna Sophia Robb, Saoirse Ronan or Jodelle Ferland. Or, for that matter, a complete unknown. We just don't know.
There's another Oz do-over in the traps, a fully-CG rendition being directed by John Boorman. Something tells me we'll be seeing that one first and, even sooner than that, the 1939 film version is headed back to US cinemas for a Blu-Ray hawking special appearance.