Robert Zemeckis To Mo-Cap The Beatles Into A New Yellow Submarine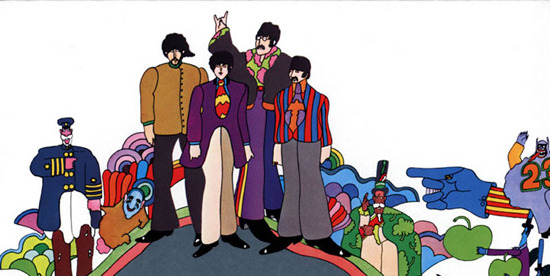 Variety is reporting some unexpected news: Robert Zemeckis is brokering a deal with Disney and Apple Corp. to remake Yellow Submarine with 3D motion capture technology. My initial reaction to the idea is knee-jerk and negative, and then I remember that Zemeckis has already made one Beatles film (I Wanna Hold Your Hand, 1978), so if anyone is going to make this work it could be him. If he hires a great art team to re-envision the Fab Four's battle against the music-hating Blue Meanies, this could actually be a lot of fun.
Variety's report says that Disney is working on "a complicated rights deal" that would clear 16 Beatles tunes for use in the film. (Dealing with the army of lawyers and hangers-on the deal requires sounds far more abhorrent to me than any remake.) The report doesn't say how close Zemeckis would like to hew to the original, but song availability could have a lot to do with it. He won't need the voices of Paul or Ringo, however, as even in the original the Fab Four were primarily played by voice actors.
I still struggle with most of the performance-capture work I've seen, but Zemeckis is steadily pushing the technology forward. And Yellow Submarine wouldn't have to use photo-realistic human characters, as the whole point was to present a cartoonish, psychedelic vision.
The Beatles are huge right now, with Paul McCartney's solo summer tour, their Rock Band game hitting in a couple weeks and remastered digital releases of Beatles records finally about to hit the iTunes store. But in three years when this film is finished, will it seem like an idea better left in 2009? Or will it be the most expensive stoner movie ever made?
Below, see a clip from I Wanna Hold Your Hand and a trailer for the original Yellow Submarine.