Bronson Domestic Movie Trailer: It's Inglourious!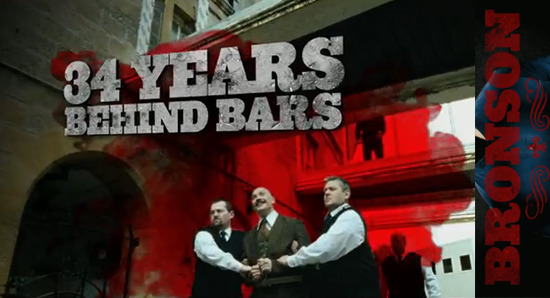 It isn't difficult to see the influence of those bloody red and white posters for Inglourious Basterds in this first trailer for Magnolia/Magnet's domestic release of the excellent Nicolas Winding Refn film Bronson. A Tarantino vibe kicks off the thing, too, as music kicks in that must have been chosen to recall promos for Pulp Fiction and Kill Bill. Hulu just premiered the clip, which shows off a lot more of the craziness lead actor Thomas Hardy put into Refn's movie than we've seen in any prior international ads. See the trailer after the jump.
First off, when I say this trailer shows off a lot more of the film's craziness, I actually think it shows off way too much. People who haven't seen the film probably won't be able to put most of the footage here into context, so it might be fine. But for my money the first full international trailer is better for being far more concise. Granted, this one is certainly a lot more energetic, and that's not a bad thing. And since Bronson is already destined to be a niche film, selling it as a fractured, crazy experience isn't the worst idea Magnolia could have. The earlier trailer encapsulates the film's basic story in a better way; this one shows just how wild it can be.
What I think of the trailer is immaterial; if it gets people to see the film, that's all that matters. Refn has crafted an unsusual, memorable and frankly fantastic vision of fame, violence and art. It's a uniquely beautiful cinema experience, one of my favorites of the year. If you leave this movie thinking Tom Hardy doesn't have the potential to be a star, I'd say you must be insane. Bronson opens October 23.
(First, the new domestic trailer; underneath is the shorter original international clip that gives away fewer bits of the film.)