Jon Hamm Joins Zack Snyder's Sucker Punch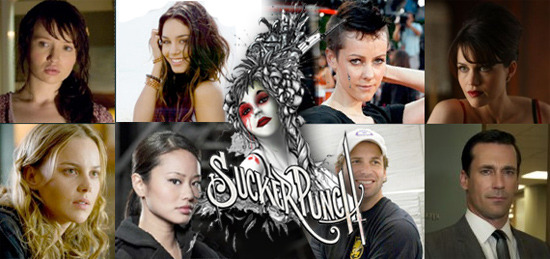 Mad Men star Jon Hamm has joined the primarily female cast of Zack Snyder's Sucker Punch.
Snyder has called the film "Alice in Wonderland with machine guns", a 1950's-period action movie which tells the story of a girl named Baby Doll (Emily Browning) who is confined to a mental institution by her evil stepfather, who intends to have her lobotomized in five days. While imprisoned, she imagines an alternative reality to hide her from the pain. In this fantasy world, where she needs to steal five objects to help her out before she is deflowered by a vile man.
Jamie Chung (Dragonball Evolution), Jenna Malone (Into The Wild, Donnie Darko), Vanessa Hudgens (High School Musical), Abbie Cornish (Stop-Loss) play Browning's fellow inmates who also travel into the alternate reality. Carla Gugino has also been cast as a nurse in the insane asylum who becomes a madam at a brothel in the film's alternate reality.THR says that details for Hamm's character are being kept under lock and key, but his character is known as High Roller. But Snyder has said that the alternative reality in the film is "where the psych ward world shifts into this strange high-roller's brothel." So we can assume that Hamm's character is the owner of the sub world brothel, and might also have a counterpart in the real world mental institution, possibly the "warden" type? Maybe the vile man mentioned in the plot synopsis?
The film's cast is finally coming together, after a bunch of sudden cast departures hit the project suspiciously following the release of Snyder's Watchmen. Amanda Seyfried, Evan Rachel Wood and Emma Stone all dropped out due to "scheduling conflicts." Hamm is certainly a nice addition to the already impressive ensemble.
Sucker Punch is set ot begin filming this fall in Vancouver. Warner Bros has previously announced a March 25th 2011 release date.