Cool Stuff: Shaun Of Dead Inspired Bar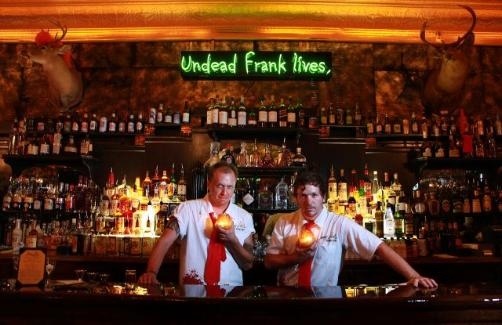 One of Minneapolis most notorious bars, Stand Up Frank, was resurrected last week under new ownership, new name and an entirely different interior. Leslie Bock reopened the tiny bar with a new zombie theme under the name Donny Dirk's Zombie Den.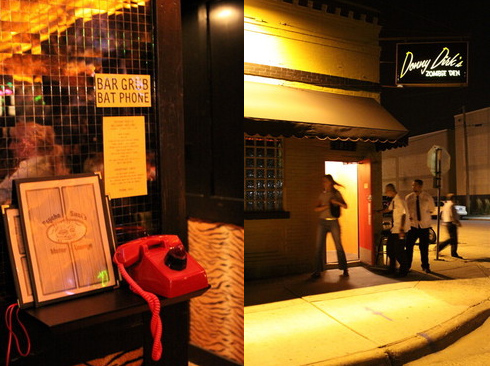 Here is an excerpt from and article in the Star Tribune:
The stunning new interior comes straight out of a 1950s Las Vegas lounge (the classic part). The zombie stuff (i.e. the kitsch) is hilarious, and more nuanced than you'd expect from a bar named Donny Dirk's Zombie Den. In the corner, a small chainsaw sits inside a glass case that reads "In case of zombie attack, break glass." The bartenders all dress like Simon Pegg in "Shaun of the Dead" — white button-up, red tie and blood stains. The friendly female servers wear long black gowns. Again: This is a classy zombie joint.
The floor is covered with tiger-striped carpeting, all of the booths and bar stools are covered in plush Vegas-style tufted vinyl, the mens room contains a collection of prison shanks above the urinal, and you can place food orders at Psycho Suzis (the owner's food establishment) through a 1960's red prop replica batphone.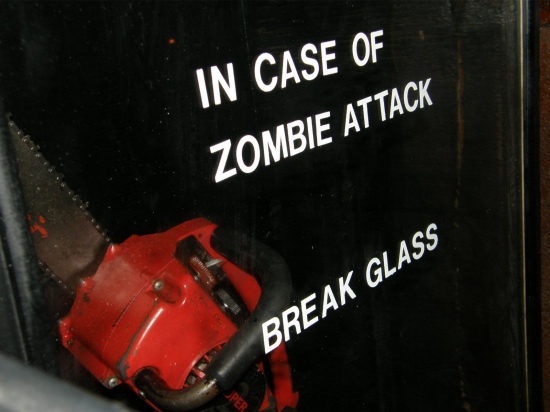 A green neon sign hanging bove the bar references the bar's former name, "Undead Frank Lives", as does one of the drinks, R.I.P. Frank. One of their specialty drinks, called the "Weird Science" interactive cocktail, allows patrons to design their own drinks. You write down the liquors on a special note card, and the bar tender will create your concoction.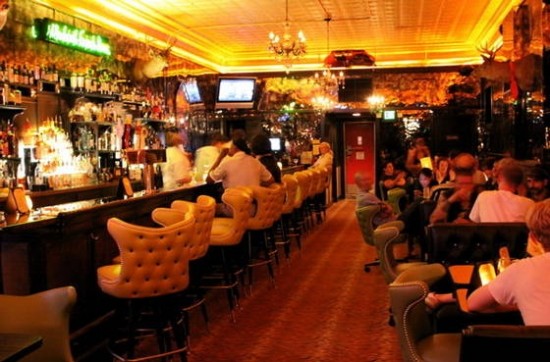 On Yelp, Sarah P describes the process:
Enjoyed the "weird science" aspect...very mixologist in that they have tons of tubes filled with housemade biters, different alcohols infusing with interesting additions. I was especially curious about the bubblegum vodka, but opted to save that for another date. Had the peach sugar cube bitter infusion with the champagne. Yummy. Draught beers were poured into heavy intense glasses.
Photos in this article come courtesy of John Hoff, metromix and the StarTribune. Please check out the three previously linked websites for a lot more photos and information about Donny Dirk's Zombie Den.