Movie Playlist: Quentin Tarantino's 20 Movies And Posters You've Gotta See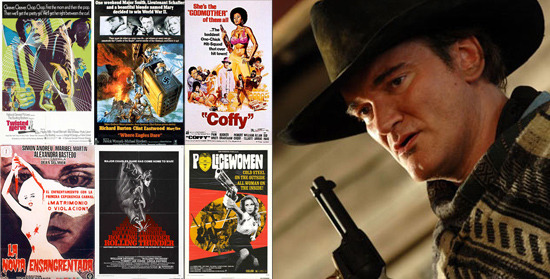 Yesterday we posted a video of Quentin Tarantino talking about the top 20 films that have been released since he became a filmmaker. Today we offer a follow-up, thanks to Entertainment Weekly, in which Tarantino lists 20 movies, and posters, that you've got to see.
It's a weird list, as there isn't an exact explanation of what he's rating – the films or the posters. One thing is for sure, he likes the movies, he loves the posters, and chances are, you haven't seen 'em (which gives you a good excuse to seek them out). Of course, some classics are included, like It's a Mad, Mad, Mad, Mad World and Vanishing Point.
But for the most part, the list consists mostly of 1960's and 1970's horror and blaxploitation films. EW lists the movies, along with the posters, in one of those annoying one movie per page slideshows. I've compiled a list of the films Tarantino talks about after the jump, but you'll have to click your way through the EW slideshow to read his thoughts on each film.
Coffy (1973)
Rolling Thunder (1977)
Where Eagles Dare (1968)
Eyeball (1975)
Dark of the Sun (1968)
They Call Her One Eye (1974)
The Inglorious Bastards (1978)
The Savage Seven (1968)
It's a Mad, Mad, Mad, Mad World (1963)
Vanishing Point (1971)
The Blood Splattered Bride (1972)
Twisted Nerve (1968)
Policewomen (1974)
The Girl from Starship Venus (1975)
Autopsy (1975)
Pretty Maids All in a Row (1971)
Machine Gun McCain (1969)
Chinese Hercules (1973)
Revenge of the Cheerleaders (1976)
The Sell-Out (1976)
via: Collider