Cool Stuff: Dexter Drink Coasters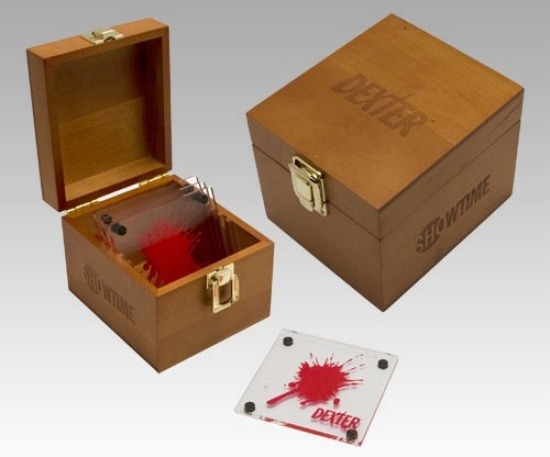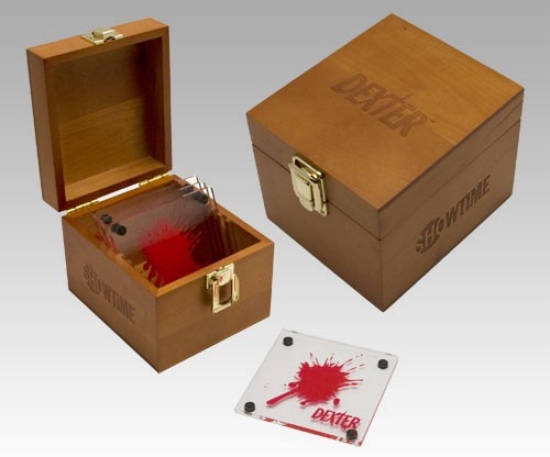 I don't own a coffee table, nor do I care about my drinks leaving condensation on my glass work desk, so I really have no use for drink coasters. But my love for the Showtime series Dexter actually had me considering hitting the "Add To Cart" button.
For those of you who don't watch the series, let me give you a little background. First of all, you should be watching the series. Buy the DVD/Blu-ray or buy it now on iTunes. You have no excuse. Secondly, in the show Michael C Hall plays Dexter Morgan, a like-able Miami police forensics expert who moonlights as a serial killers of criminals who may have escaped justice. Like most serial killers, Dexter collects something from his "victims" — a drop of blood, which he immortalizes on a slide, which he keeps in a wooden slide container hidden in his apartment.
So Showtime has made a set of drink coasters, cleverly designed to resemble Dexter's collection of blood slides. How cool is that? The set comes with four clear acrylic coasters with rubberized feet, housed in a a beautifully-crafted wooden box with golden hardware, and a slotted interior to display each coaster. Showtime.com is selling the set for $29.97, 33% off the $45 list price.
Cool Stuff is a daily feature of slashfilm.com. Know of any geekarific creations or cool products which should be featured on Cool Stuff? E-Mail us at orfilms@gmail.com.