Lionsgate To Distribute Kick-Ass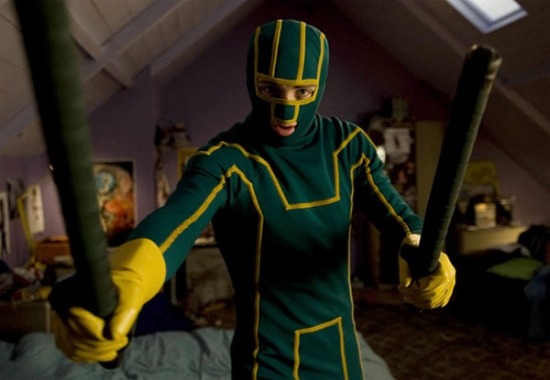 This isn't a huge surprise, but it's great news for Matthew Vaughn and those who are interested in a seriously violent adaptation of Mark Millar's comic series. Just a week ago we heard that three studios were vying for distribution rights to Kick-Ass, which adapts Millar's comic of the same name. Now a press release confirms that the film will bear the Lionsgate banner. Since the project in question has been called 'teenage Tarantino' and is anticipated as much for its level of (er) kick-assery than anything else, distribution by the studio that brings us Saw makes a lot of sense.
Variety's piece doesn't offer as many more details other than the deal is "big" and that Lionsgate has committed to a wide release of the film in 2010. With Vaughn essentially holding all the bargaining chips in this arrangement, it wouldn't be a surprise to see Lionsgate making a big marketing push for this film come next year.
Universal and Paramount were the other two studios interested in the film, but it's hard to see how either one would have put the energy behind the film that will be necessary to make it a success. Granted, Lionsgate didn't do so well last year with a couple of violent, under the radar movies: Punisher and Midnight Meat Train, but there's a huge gulf between those two b-pictures (both of which I quite liked, as it goes) and a new effort from the very promising Matthew Vaughn.
Kick-Ass was one of the most audacious and pleasantly surprising pieces of footage we saw at San Diego Comic-Con 2009. As  discussed on this week's episode of the /Filmcast, the film was completely independently financed and Vaughn really took a lot of chances with his depictions of violence and youth. Here are the salient bits of the press release:
LIONSGATE, the leading next generation studio, announced today that it has acquired U.S. and Canadian distribution rights to KICK-ASS, the hotly anticipated action-comedy from writer/director Matthew Vaughn (LAYER CAKE, STARDUST). Based on the groundbreaking, best-selling comic by Mark Millar and John Romita Jr., KICK-ASS stars Nicolas Cage (the upcoming SEASON OF THE WITCH, KNOWING, NATIONAL TREASURE), rising star Aaron Johnson (the upcoming NOWHERE BOY), Christopher Mintz-Plasse (SUPERBAD) and Chloe Moretz ((500) DAYS OF SUMMER). The screenplay is written by Vaughn and Jane Goldman. The producers are Matthew Vaughn, Brad Pitt, Tarquin Pack and Kris Thykier; Millar and Romita Jr. are co-producers. The announcement was made today by Joe Drake, Lionsgate President, Motion Picture Group, and Co-Chief Operating Officer, and Jason Constantine, Lionsgate President of Acquisitions and Co-Productions.
KICK-ASS was the buzz sensation of the July Comic-Con in San Diego, where early footage was shown to wildly appreciative fans. The film is a privately financed independent production from Vaughn's Marv Films and Plan B Entertainment, and is currently in post-production. Lionsgate anticipates a wide release in 2010.
Said Constantine, "Matthew Vaughn is an amazing talent and a true original, and he has brought a whole new mindset to the action genre with KICK-ASS. KICK-ASS redefines the boundaries in terms of humor, action, story, character and tone — it's the kind of movie that reminds us of why we go to the movies in the first place. Lionsgate is thrilled to bring KICK-ASS home to give it the next-generation launching pad it deserves."
Said Vaughn, "Making and financing KICK-ASS has been an amazing experience, and we've had two important goals from the start: make a singularly entertaining film and find the right studio to release it. With Lionsgate, I know that I've got a supportive and fearless team behind me. It's going to be fun working together to bring the film to audiences and those who are already fans of the comic book."
Said Pack, "The massive response we received at Comic-Con has been hugely important in launching the next wave of momentum for the film, and Lionsgate's marketing and distribution talents are a perfect fit for us. Lionsgate is a studio that is not afraid to do things differently, and that is the attitude that has characterized KICK-ASS from the very start."