LOST Viral: Lost-Inspired Art Announced, Tim Doyle's Hurley Art Revealed

Previously on the Lost Viral: Human Giant comedian Paul Scheer presented Damon Lindelof and Carlton Cuse with a velvet painting and announcing his new website DamonCarltonAndAPolarBear.com., where he planned to devote his life to making Lost-inspired paintings. Soon after we received a FEDEX'd letter from Ronie Midfew Arts, declaring that "Mr. Scheer is creating this LOST-inspired artwork without authorization." After harassing phone calls and legal letters, last week Paul was invited by Ronie Midfew Arts to have a meeting at their Beverly Hills art gallery. They agreed to forces for "The Ultimate Lost Event" which was held last night at at Bardot in Los Angeles.
So what happened at the Lost Viral event? Details after the jump.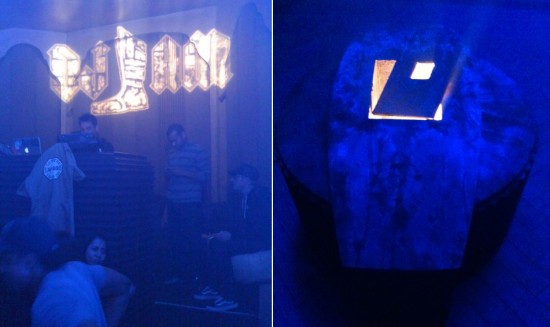 I wasn't there so I'm going to have to rely on those who were to pass along the information. The outside of the club had a Dharma inspired logo (seen above). Inside there were paintings on the wall, the only one notable was a painting (see above) of The Black Rock. I believe this painting might have also appeared on the show. DJ AM was spinning with a customized logo featuring the four toed foot from the island, and a custom DJ AM Dharma jumpsuit. In front of the DJ booth was something that looked like The Hatch. The photos above thanks to
HollywoodBob and JonathanZuniga.
Then a special guest arrived: Sterling Beaumon, who has appeared on the show as Young Ben Linus made an appearance, and has an announcement. Here is a video thanks to Twitvid and HollywoodBob:
Sterling announced the "first frame", a website called ActuallyItsKetchup.com. The website contains the first of 16 commissioned Lost-inspired art pieces which will be hand signed by the artist and numbered, made available to the public in a limited edition of only 300.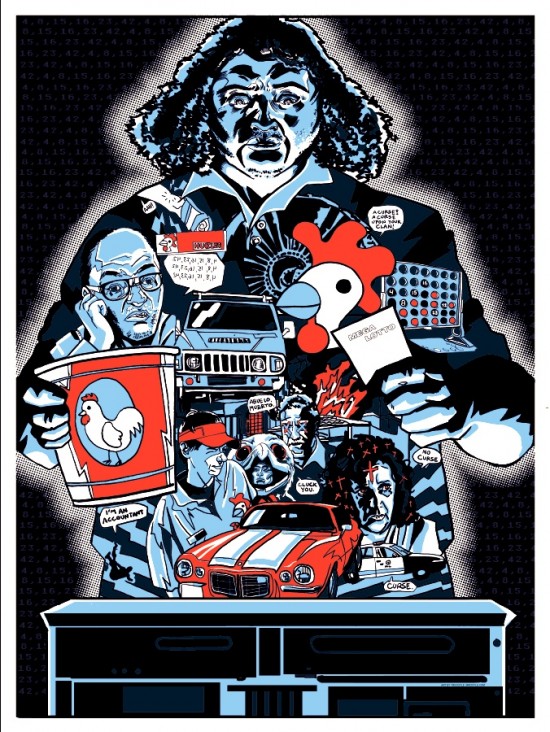 The first frame contains a Hurley inspired piece called "The Numbers", which was created by Tim Doyle, an artist we've featured on the site many times in the past two years. Here is what the site says:
"In celebration of LOST's final season and as a project of fan appreciation, 16 top designers and artists, who are also fans of the show, were commissioned to create artwork celebrating one of the series' most memorable, and unforgettable, "water cooler" moments. This ultimate "fan art" was then turned into labor intensive, hand-pulled screen prints, limited to an edition of just 300, with less than 200 available to the public through our websites. Each beautiful poster tells its own different story, allowing the fan to relive memorable and influential moments in an artistic manner, as the show's storied run comes to a close. Once this limited edition print has sold out, they will never be printed again. Celebrate the fandom, community and family created by one of televisions' greatest shows by hanging a little part of it's history, inspiration and influence on your wall."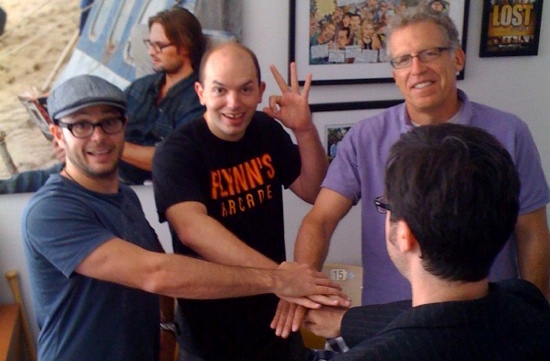 A commentator in our previous post mentioned that the Ronnie Midfew suit (above photo, bottom right) looked suspiciously like Jensen, the proprietor of the famous Gallery 1988 art gallery. I've never met Jensen, so I can't confirm/deny this claim, but I will say that if it is — it is beginning to make complete sense.
Many of you will recall that we've featured art from some of Gallery 1988's pop culture-inspired Crazy4Cult art shows over the past few years. I've purchased quite a few prints from the past shows, and love the art work. It seems to me that in addition to the viral fun, Damon Lindelof and Carlton Cuse have put together this "art show" to celebrate with the fans the final season of Lost. They're putting together a collection of Lost-inspired art prints from some of the cool artists I love from the Crazy4Cult shows. Personally, I can't wait to get my hands on some of the art that is to come.