James Woods And Dominic Purcell Join Rod Lurie's Straw Dogs Remake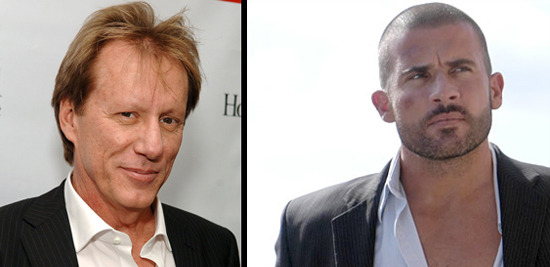 We've known the main names in Rod Lurie's remake of Sam Peckinpah's shattering film Straw Dogs. James Marsden, Kate Bosworth and Alexander Skarsgard are toplining the film, which is in production in Louisiana right now. But yesterday Lurie mentioned two more names on Facebook: James Woods and Dominic Purcell. (Who needs the trades when directors can throw out their own casting news?) Does the presence of a great actor like James Woods change your mind about this odd remake?
It certainly raises a bit of interest for me, though we don't know what roles Woods and Purcell have. Lurie's status said only "Beginning stunt rehearsals today with James Woods and Dominic Purcell." That suggests that both are taking place in the siege on Marsden and Bosworth's home that will be the film's latter section. For that matter, we don't know how extensively Lurie has re-written the story, which was originally scripted by Peckinpah and David Goodman, based on the novel The Siege of Trencher's Farm by Gordon Williams.
Peckinpah's film told the story of David Sumner (Dustin Hoffman), a withdrawn mathematician, who moves with his young wife Amy (Susan George) to her childhood village of Cornwall. Trouble ensues when Amy flirts with the locals, one of whom violently rapes her. After other trouble, a group of local men besiege the Sumner home. The new version will differ significantly in several ways. Variety provided the following synopsis:
Marsden plays a Hollywood screenwriter who relocates with his wife to her hometown in Mississippi. Bosworth plays the wife, who left the South for LA. to become an actress and returns home so her husband can finish his script in quiet. Skarsgard plays her high school boyfriend, an ex-football hero who sees the return of his former girlfriend as a way to reclaim glory.
Casting the central character as a screenwriter rather than a mathematician could imply serious differences, though both could be seen as geeky/intellectual, reclusive, potentially elitist characters. But the deeper nature of the character is more important. Peckinpah's original version is one of the more widely misread films out there; the director considered Dustin Hoffman's character, ostensibly the hero, to be in reality the film's antagonist. He's a guy whose repressed humanity causes the explosion of violence that is the film's climax; without his inability to directly engage the men intimidating him as the story begins, most of the film's events would not take place. Peckinpah's film was a brutal meditation on violence that has been mistaken for an endorsement of same. Will Lurie's film be along similar lines, or does it have totally different concerns?
[via Bloody Disgusting]