Twitter Rumors: Chris Jericho And Val Kilmer In MacGruber? Toy Story 3 And Karate?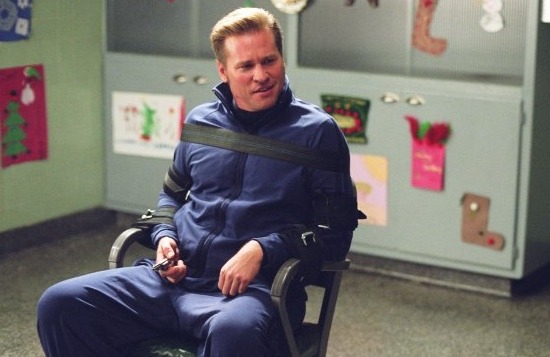 Is Val Kilmer in the SNL big screen adaptation of MacGruber? And what does Toy Story 3 possibly have to do with karate? We delve into those two questions in today's speculative news gathered from Twitter report.
MTV noticed that DJ Nu-Mark tweeted that he'll be joining the cast of the MacGruber movie. And is his Tweet the DJ reveals that he'll be sharing the screen with Val Kilmer. "@djnumark: Ahh, gonna be in my first movie! Playin a DJ in the new Mac Gruber movie (from SNL)..lol. Val Kilmer is gonna take my mic from me..lol" I wonder if its just a small cameo or if Val has a major partUpdate: Apparently I totally missed the announcement last week that Kilmer would be playing the bad guy in the SNL big screen adaptation.
/Film reader Chris E alerts me that WWE wrestlers Chris Jericho and The Great Khali are also in the film. Jericho has been tweeting about doing a scene with Will Forte.
Now for the more speculative story of the day. Toy Story 3 director Lee Unkrich mentioned on twitter today that this year's summer animation interns "have to wear matching karate ghis on Fridays", and that whenever a shot is finalized, "they stand in unison and punch and shout." Sounds like fun. I know this is bit of a reach, but could the karate ghis have any relation to the plot of Toy Story 3?
Every Summer at Pixar Animation Studios, they take in a new batch of college students for internships. From what I've heard, the interns have to wear a matching outfit on Fridays, its part of a fun group-building hazing ritual. Last year the Summer animation interns had to dress in boyscout outfits (click here to see a photo from Flickr). The boy scout outfit is an obvious reference to the film that the group was working on at the time, Up, which features a wilderness explorer named Russell.
So might one of the new Toy Story characters have a karate punch? Could Woody and Buzz be making a trip to Japan, like the infamous scrapped Disney-produced Toy Story 3 concept? Doubtful. It is completely possible that the outfits have nothing to do with any of the projects Pixar is currently developing, but who knows?