The First Official Photo From James Cameron's Avatar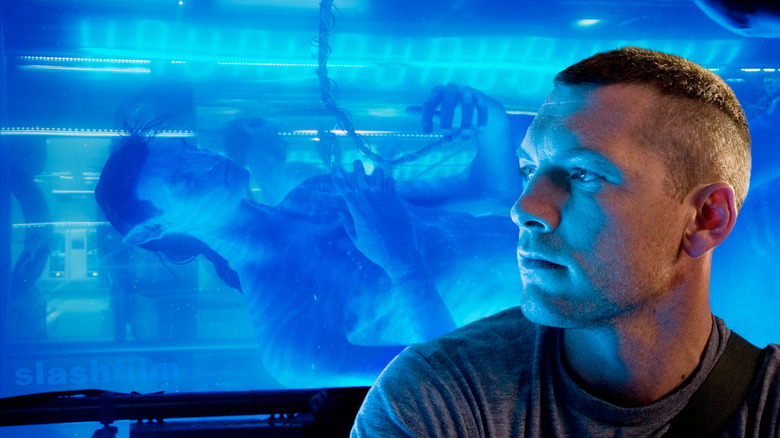 I woke up this morning to find an an email from an anonymous source, with an attachment. A photo from the most anticipated movie of the next year (at least among film geeks). That's right, the first real photo from James Cameron's Avatar. I freaked out because I receive cool stuff all the time, which unfortunately the law prevents me from posting. And if I was the one to leak a photo like this, it would surely start a s*** storm.
But I wanted to be sure, so I contacted Fox directly to ask permission to post what I had received. It was one of those moves to just make sure, a last resort. I didn't really expect them to be like "yeah, that's fine..." but, well, that's almost exactly what they said. Apparently the photo was sent out to a couple magazines this week, so Fox is fine with me posting this. So here you have it, the first photo from Avatar.
So what is in the photo? (spoilers which will be revealed in the trailer follow) Sam Worthington plays Jake Sully a paraplegic war veteran, who gets the opportunity to travel to another planet, Pandora, to work with a mining operation. Because the planet is so harsh, traditional armor and envirosuit solutions are not good enough to protect miners, and a clone program has developed in which DNA from humans and Na'vi, the natives that inhabit Pandora, are combined. The result is essentially a cloned Na'vi that can house the consciousness of an individual with human DNA. This means that Jake will be able to walk again. The photo above shows Sully in front of the tank that houses his Avatar. Click on the photo to enlarge.
20th Century Fox will be holding a special preview of 15-minutes of Avatar on August 21st, in an event called Avatar Day. Click here to read more. Avatar is scheduled to hit theaters on December 18th 2009.