(Untitled) Movie Trailer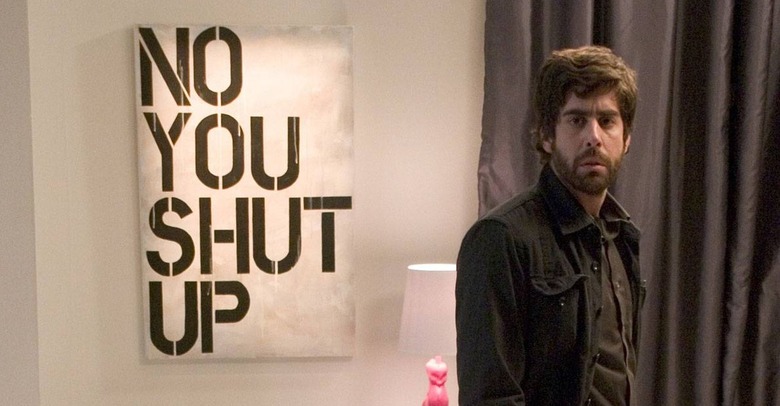 There are a bunch of movies opening this Friday, which explains the abundance of new movie trailers hitting the interwebs today: Gentleman Broncos, Law Abiding Citizen, The Fourth Kind and now the trailer for (Untitled). Yes, that's the name of the movie — Untitled. And I'm not talking about the brilliant but flawed director's cut of Cameron Crowe's Almost Famous, which yes, too, was released under the non-title Untitled (but without the brackets).
Adam Goldberg stars as a musical modern art creator who, well, creates nonsense. (Untitled) is notable for a couple reasons. First off, (Untitled) was directed by Jonathan Parker, who was the writer, director, producer and composer of Bartleby, the absurd 2001 indie adaptation of Herman Melville's Bartleby the Scrivener And no, that film isn't anything to write home about, but its just so strange that I often find myself recommending it to those who love fringe films. Secondly, Untitled premiered at the Palm Springs International Film Festival in January, where it recieved some good buzz amongst audience members (but not the trades).
It certainly doesn't look like a movie for everyone. Watch the trailer embedded below, and leave your thoughts in the comments.
Thanks to moviefone for premiering the trailer.
Set in the artsy Chelsea neighborhood of Manhattan, ('Untitled') tells the story of Adrian Jacobs (Goldberg), a difficult composer of equally difficult music whose sparsely attended performances involve musicians breaking glass and kicking metal buckets. In contrast, Adam's brother, Josh (Bailey), is a commercially successful painter of vapid canvasses that corporate clients snap up by the dozen.
But, Adrian's luck appears set to change when Josh brings the stunning Madeleine (Shelton) to one of his concerts. Not only does she embrace his work and ask him to perform at her gallery, she invites him into her bed. As the two embark on a fiery affair, Adrian is introduced to a world of pretentious art collectors, dueling gallerists and eccentric artists, including Ray Barko (Vinnie Jones), whose bizarre creations include chandeliers of stuffed animals and dead cows draped with jewelry.
When Josh discovers Adrian and Madeleine's relationship and Madeleine refuses to exhibit Josh's paintings–even though the money they bring in is what keeps the gallery afloat–the stage is set for a showdown as comedic and discordant as Adrian's music.
(Untitled) hits theaters on October 23rd 2009.