Tarantino Wants To Adapt Len Deighton, Work With Simon Pegg, Kate Winslett And Michael Caine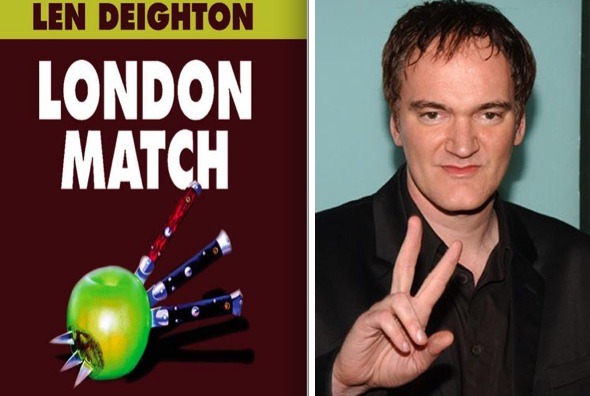 The Inglourious Basterds publicity continues apace with Quentin Tarantino now speaking to members of the UK press. With a sweet appreciation of Brit cinema culture, Tarantino decided to tell us which actors of ours he likes, and just what UK-set film project he'd like to tackle.
Here are the key quotes from Yahoo's coverage:
I am a huge fan of Simon Pegg, so I would definitely love to work with him. I also think Kate Winslet is one of the best actresses that ever lived, so I would be honoured to work with her. I am also a huge admirer of Anthony Hopkins. I would also love to work with Michael Caine. I can see them appearing in my movies, it just has to be right.
I love England. It would be a wonderful life experience to have an excuse to work here for six or nine months. One of the things I am musing about doing is the trilogy of Len Deighton books, Berlin Game, Mexico Set and London Match. The story takes place in the Cold War and follows a spy name Bernard Samson. What is attractive is the really great characters and the wonderful opportunities of British and German casting.
Opportunities also presented in Basterds, of course. Christoph Waltz has proven to be the big revelation here though the cast is full of wonderful players.
We all know that Tarantino muses a huge heap of projects, possibly even a new one every day. Taking on Deighton, however, would give him a crack at the Bond that he was previously denied. I can see it happening one day. Just like Inglourious Basterds seemed to be a forever ellusive vaporflick for over a decade before finally coalescing in relatively snappy fashion, I'm sure some of his other conjectures will one day come to pass.
Perhaps my favourite as-yet unproduced Tarantino projects would be the remake of Come Drink With Me and his horror film featuring a vengeful ghost from the slave plantations, particularly the latter. Indeed, any Tarantino-powered horror film would grab my attention right away.
Ian Holm played Bernard Samson in the TV adaptation of the Game, Set and Match series. Shame to see him left out of Tarantino's love list... but then, he could have gone on for hours, I'm sure. Who else do you think he should have included?