The Haunted World Of El Superbeasto Teaser Trailer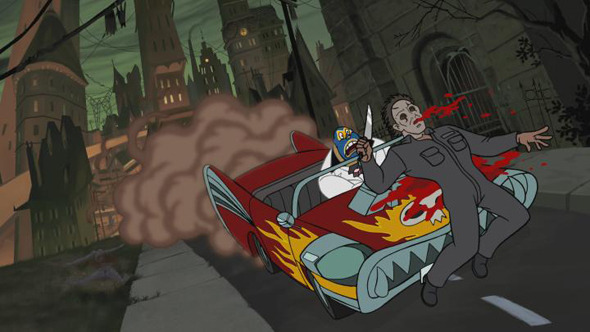 Rob Zombie's $10 million, hard-R animated film, The Haunted World of El Superbeasto, is headed straight-to-DVD next month via Anchor Bay. Zombie previously discussed the politics involved and the theatrical set-backs with /Film; outfitted with a voice-cast that includes Paul Giamatti (as villain Dr. Satan), Rosario Dawson, Brian Posehn, and Danny Trejo, we remain as bewildered over the prolonged release limbo as he was. And apparently a teaser trailer was issued for Beasto earlier this season, but today is the first we've screened it. Co-written and -directed by Mr. Lawrence (SpongeBob, Rocco's Modern Life), the professional style of the animation and overall sinister-pop sensibility is fluid and appealing and seems a natural inclusion for Halloween marathons (and Clint Howard cos-play fiestas). Update: Zombie has revealed to STYD that his '70s-action film, Tyrannosaurus Rex, is once again off development cinder blocks and slated to be his follow-up to the forthcoming Halloween 2. Score one for the non-remakes.
Plot Synopsis: The Haunted World of El Superbeasto, is the twisted tale of El Superbeasto (voiced by Tom Papa), a former world class masked wrestler with super human strength, who now finds himself in the very ordinary capacity as producer/director/star of BeastoWorld Enterprises. But when he can, Beasto spends time fighting evil along with his with his super-sexy sister, Suzi X (Sheri Moon Zombie), in the spooky Monsterland. Our hefty hero faces his biggest battle when he struggles to stop the unholy marriage of foul-mouthed stripper Velvet Von Black (Rosario Dawson) and the diabolical Dr. Satan (Paul Giamatti). Will all hell break loose or will our man save the day? The answer can only be found in The Haunted World of El Superbeasto.