Legion Red Band Trailer, Exclusive Photos And Director Quotes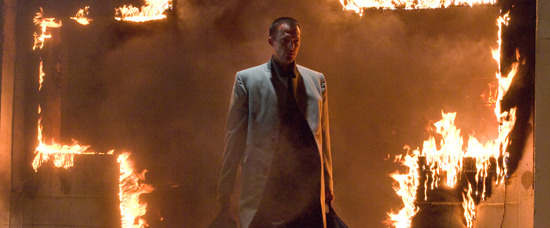 Today we've got a bounty of info on the upcoming Sony action/horror film Legion, starring Paul Bettany, Dennis Quaid and Adrianne Palicki, written and directed by Scott Stewart, founder of acclaimed effects company The Orphanage. We've got two exclusive new stills, and I spoke to Stewart last night to get some backstory on the movie. Finally, the red band trailer that Sony showed off at Comic Con two weeks ago is online, and you can see it after the jump.
Legion is based on a script originally written by Peter Schink, but Scott Stewart was brought in to re-write and "scale the movie back into a thing that was more of a character piece with good set-pieces and scares." He took Schink's core idea, setting and a few characters, but essentially rewrote the film from scratch. As he says:
The basic idea is essentially what Paul Bettany's character says in the movie, which is: the last time God lost faith in man, he sent a flood. This time he sent what you see outside. So, what if God decides that he's lost faith in man? We always talk about having to have faith in God, but what happens if it happens in reverse? God loses faith in man and says "do it over"? This is our approach to that. It's also about a bunch of characters who are dealing with lost fathers or lost children, trouble between parents and children, dysfunctional families, and standing over all of that is this idea of an angry father, which is very much God in the Old Testament.
And in fact, the casting of the film demonstrates that the devotion to character is holding fast: in addition to Paul Bettany there are great names like Quaid, Kevin Durand, Kate Walsh and Charles S. Dutton, who Stewart calls his 'suspension of disbelief character actor'. As he puts it, "he's the type of actor where, if he believes that crazy stuff is happening, you believe it. He's like Albert Finney." Furthermore,
Casting Paul kind of drew a line in the sand and said we're going to treat this really seriously. We have a fun movie and it's a roller coaster ride, but it has some heavy themes and I do take it really seriously and want the acting to be great in it.
Or, as I asked him, based on his Comic Con presentation, is this the sort of movie a lot of devotees of '70s genre film always talks about wanting to make, where you've got a pulpy story, but a cast that's really devoted to it?
Exactly. Comic Con is an interesting place, people are taken by the posters, and yeah, it is 'angels with machine guns'. That's a part of the movie and we love that part. You only have a few minutes to talk about it, and while there are heavy religious themes in the movie, I meant what I said on stage there: it's not a religious picture. I didn't make The Last Temptation of Christ.
These quotes from Scott Stewart are part of a longer interview that I'll post shortly. What I expected to be a ten-minute phone call (that took place as he was in the middle of some rare rehearsal time for Priest, also with Bettany) turned into a 40-minute conversation. Look for the full transcript soon. Meanwhile, check out the red band trailer, below, and underneath it two stills from the film. Click on each to embiggen.