Astro Boy Movie Trailer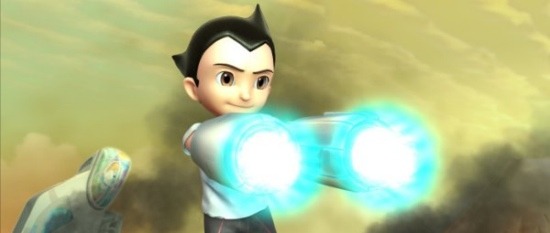 Summit Entertainment have released the first full feature trailer for their big screen computer animated adaptation of Astro Boy (you might remember we previously posted the second teaser trailer here).
Produced by Imagi Animation Studios, the guys responsible for the recent computer animated TMNT film, and set in futuristic Metro City, Astro Boy is about a young robot with incredible powers created by a brilliant scientist named Tenma (Nicolas Cage). Powered by positive "blue" energy, Astro Boy (Freddie Highmore) is endowed with super strength, x-ray vision, unbelievable speed and the ability to fly.
Embarking on a journey in search of acceptance, Astro Boy encounters many other colorful characters along the way. Through his adventures, he learns the joys and emotions of being human, and gains the strength to embrace his destiny. Ultimately learning his friends and family are in danger, Astro Boy marshals his awesome super powers and returns to Metro City in a valiant effort to save everything he cares about and to understand what it takes to be a hero.
Nothing I've seen so far from this film has impressed me much, which is a shame because (stupid story aside) I really enjoyed the stylistic animation employed in TMNT. Astro Boy just seems a bit too vanilla, and the corny jokes sure don't help. I think I'd rather see a big budget Japan-produced 2D/3D animation hybrid produced using the character. Watch the trailer for yourself below, and tell me what you think in the comments.
Astro Boy hits theaters on October 23rd 2009.