SNL's Categorically Unjustified "MacGruber" Movie To Be Hard R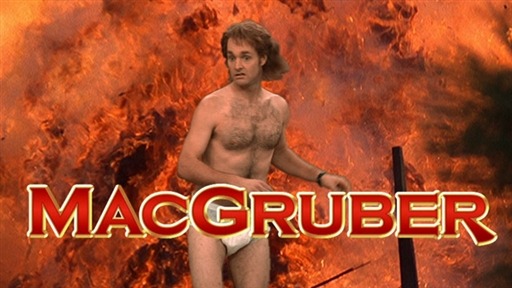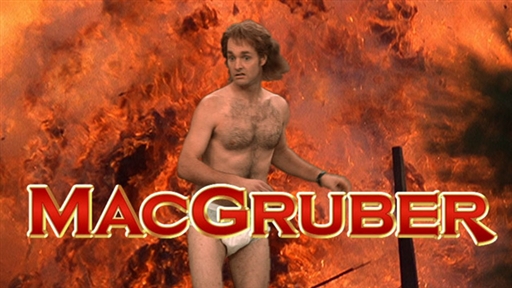 One of the most recycled, one-note, inexplicably dated bits in the history of SNL, "MacGruber," is still moving forward as a feature film. Shooting has started in New Mexico on the 2010 release, with SNL writer and Lonely Island member, Jorma Taccone, making his theatrical debut as a director. Personally, I'd rather see Taccone reprise Cha-Ka in a spin-off or sequel to Land of the Lost, but his performance (and that rad film) sadly await discovery on Netflix. Just wait. Let's skip the existential dilemma that is a 95-minute MacGruber sketch, and get down to its all-important rating. In an interview with Vulture, co-star, Bill Hader, defends the film, saying that a theatrical leap is by no means "a stretch." Also, in discussing the script by star Will Forte, John Solomon, and Taccone, Hader says that the film should earn a "f***ing ugly" R-rating. If so, it will join John Belushi's The Blues Brothers as one of the rare R-rated SNL films....
I read the script, and it's like a hard-R comedy, and it totally works. It's hilarious. It's kind of in the vein of, like, eighties action movies, like there's a very definitive bad guy. I don't know if I can talk about the plot too much, but it's hilarious. The thing that kind of blew my mind about it is that it's like a HARD-R movie. I was like, "What is this? This is f***ing ugly. You guys are really going to do this?" And they're like, "Yup." And I was like, "That is awesome. That is f***ing hilarious."
You know what was not "f***ing hilarious"? SNL whoring out its once-irreverent legacy to a soft drink and creating those dubious, in-show Pepsuber sketches without explanation to fans. Hader doesn't mention Pepsuber in the aforementioned interview, but I highly doubt that the producers (including Lorne Michaels) will miss a lucrative opportunity to insert a nod at the very least. And, similar to the old adage about extreme attractiveness being a comedy killer, nothing knocks the wind out of sharp comedy faster than intrusive, relentless money-grabs in the name of "modern marketing trends."
For semi-related news on the equally pointless and dated 2011 MacGyver feature, click here for a /Film write-up from March.