This Week In DVD & Blu-Ray: I Love You Man, The Class, And More
We may receive a commission on purchases made from links.
This Week in DVD & Blu-ray is a column that compiles all the latest info regarding new DVD and Blu-ray releases, sales, and exclusive deals from stores including Target, Best Buy and Fry's.
Please don't take the commentary on the movies and TV shows too seriously, as they're meant not to be reviews but rather previews that include the general thoughts and ramblings of a twice-committed DVD addict. The categories represent solely the author's intentions towards the films at hand, and are in no way meant to be a reflection on what he thinks other people should rent or buy. So if he ends up putting a movie you like in the "Skip it" section without having seen it, please keep in mind that the time you could spend leaving a spiteful but ultimately futile comment could instead be used for more pleasant things in life. Like buying DVDs.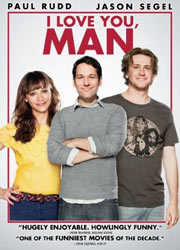 I LOVE YOU, MAN
Sure, the film's trailer may consist of your typical comedy gags like awkward gay jokes and talking about farts, but get past that, and you'll find a surprisingly honest movie that does an expert job of exploring the intricacies of building and maintaining modern male friendships. And it does so in some truly hilarious ways. This here is a comedy that knows how trivial its story is, so instead of wasting time (like so many romantic comedies before it) trying to establish to some sort of gimmicky central plotline, it takes the route of many successful dramas before it and puts the focus on what matters most: the characters. It's still a rather predictable and lighthearted film, mind you, and the final ten minutes seem more intent on rushing through your typical rom-com tropes than actually working out a satisfying resolution, but even so, the film is one of the funniest you'll see this year and easily warrants a purchase.
Blu-ray? Yes.Notable Extras: DVD & Blu-ray – Commentary by director John Hamburg and actors Paul Rudd and Jason Segel, deleted and extended scenes, outtakes, an 18-minute Making of featurette, and the Red Band Trailer.
BEST DVD PRICE
Target
Best Buy
Fry's
$15.99
Amazon – $17.99
BEST BLU-RAY PRICE
Target
Best Buy
Fry's
$25.99
$24.77
Amazon – $25.99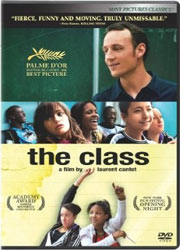 THE CLASS
With a whopping 97% on Rotten Tomatoes, it's no surprise that many were upset when this film lost out at the Academy Awards for Best Foreign Film to the Japanese contender Departures. Not that the film needed it though, seeing as how it had already won the Palme d'Or at the 2008 Cannes Film Festival (as well as several other notable awards), and found its way onto numerous critic's top ten lists for the year. The film, which combines elements of documentary-style filmmaking and a classical narrative, examines a multicultural high school in Paris over the course of a school year. If, like me, you didn't have a chance to check it out during its limited run in theaters, now would be the time to do so.
Blu-ray? Yes.Notable Extras: DVD – Select Scene Commentaries, and a Making of The Class featurette. Blu-ray – Includes the extras on the DVD, plus 2 additional features ("Actors' Workshop", "Actors' Self-Portraits").
BEST DVD PRICE
Target
Best Buy
Fry's
N/A
$17.99
$19.99
Amazon – $17.99
BEST BLU-RAY PRICE
Target
Best Buy
Fry's
N/A
$27.99
Amazon – $27.99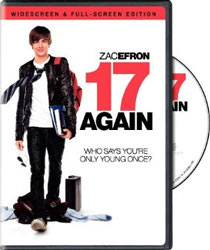 17 AGAIN
It should be said up front: although I have absolutely zero interest in ever seeing this film, the reviews have suggested that it's a fairly competent teen comedy, and its target audience will likely enjoy it just fine. And therein lies the problem: I'm not the target audience. If I were a 15-year-old girl whose loins burned at the mere mention of Zac Efron, then maybe 17 Again would appeal to me. As is, I'm still looking forward to the day when we get an age/body-swap movie that truly takes advantage of the commonly overlooked R-rated weirdness of its concept. Take this film for example: a middle-aged man with marital troubles and a teenage daughter reverts back to his 17-year-old self. Considering that his 17-year-old self is omg-super-sexy Zac Efron, wouldn't his daughter likely be attracted to him? Wouldn't any attempt he has at rekindling his relationship with his wife be one step away from her serving jail time? Perhaps it's just my perverted mind at work, but I can't help but wonder questions like this every time I watch one of these movies. Films like Big and Back to the Future have already proven that there's a lot of comedic awkwardness to be milked from the concept, but they both stopped just short of actually acknowledging how disturbing the whole situation is. It'd be interesting to see a movie that actually fulfills the potential of its twisted premise.
Blu-ray? Yes.Notable Extras: DVD – None. Blu-ray – Featurettes ("Zac Goes Back", "Going Back To 17", "Zac's Dance Flashback", "Tom Lennon & Melora Hardin – Unfiltered"), additional scenes, character outtakes, a "Way Cool" Tell All Trivia Track, and a digital copy of the film.
BEST DVD PRICE
Target
Best Buy
Fry's
$15.99
$16.99
$15.99
Amazon – $17.99
BEST BLU-RAY PRICE
Target
Best Buy
Fry's
$25.99
$24.77
Amazon – $24.99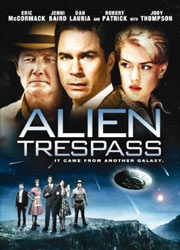 ALIEN TRESPASS
As a rule, I generally like to refrain from discussing indie films that aren't worth watching. Suggesting that people avoid films such as this seems wholly unproductive for both the filmmakers, who clearly invested a lot of time, money and hard work, and the audience, who likely wouldn't have watched the film to begin with. This is a light DVD release week though, so I suppose I should at least make note of some of the other options that are available. Alien Trespass is one such option. A throwback to campy 1950s sci-fi films, the film has received mostly negative reviews, and apparently isn't smart or fun enough to hold your attention for very long. It's a shame, too, since the concept has a lot of potential. It does have Eric McCormack and Robert Patrick though, so any fans of theirs should at least check out the trailer to see if it's something that they may enjoy.
Blu-ray? Yes.Notable Extras: DVD & Blu-ray – "Watch the Skies" Alien Trespass featurette, a "Meet the Person" feature with Edwin R. Burroughs, and interviews with R.W. Goodwin and Eric McCormack.
BEST DVD PRICE
Target
Best Buy
Fry's
N/A
$24.99
$17.99
Amazon – $20.99
BEST BLU-RAY PRICE
Target
Best Buy
Fry's
N/A
$34.99
$22.99
Amazon – $22.99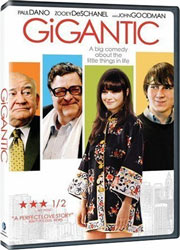 GIGANTIC
Here we have another indie film that I wish I could recommend. Sadly though, even with a cast including the likes of Paul Dano, Zooey Deschanel, and John Goodman, this is a quirky dramedy that's been said to up the quirk factor to an unbearable degree. Considering that a movie like Juno managed to earn universal critical claim despite its aggressively self-conscious quirkiness, it's pretty telling that this film was unable to escape the wrath of critics for that exact reason. Exactly how far does it take things? This article by our friends over at Film School Rejects offers a pretty comprehensive summary. I've noticed though that the audience response to this film has fared quite a bit better than the critical response, so if you have Netflix and want to give a shot anyway, it's currently available on Watch Instantly.
Blu-ray? No.Notable Extras: Deleted scenes.
BEST DVD PRICE
Target
Best Buy
Fry's
N/A
$24.99
N/A
Amazon – $20.49
Other noteworthy DVD (and Blu-ray) releases this week...
Teenage Mutant Ninja Turtles (25th Anniversary Collection) [DVD / Blu-ray] – Super Friends: The Lost Episodes
Other noteworthy Blu-ray-specific releases this week...Starman – St. Elmo's Fire – The Ninth Gate

NOTE: Some deals may be in-store only.

$15.99 – Friends (Seasons 1 – 10)$18.99 – Weeds (Seasons 1 – 4)$19.99 – Californication (Season 1), The Tudors (Season 1 or 2), Family Guy (Vol. 7), Star Trek: Motion Picture Trilogy$24.99 – Burn Notice (Season 2)

$9.99 – Blu-ray sale: The Corpse Bride, Any Given Sunday, Blow, 16 Blocks$12.99 – Blu-ray sale: T2: Judgment Day, Crank, Casino, American Gangster, The 40-Year-Old Virgin, U-571, Shoot Em Up, First Blood, Jarhead, 28 Days Later, and more...$14.99 – Blu-ray sale: Batman Begins, The Rock, Across the Universe, and more...