Corporate Casualty: Pic With Ben Stiller, Jason Schwartzman Dumped By Paramount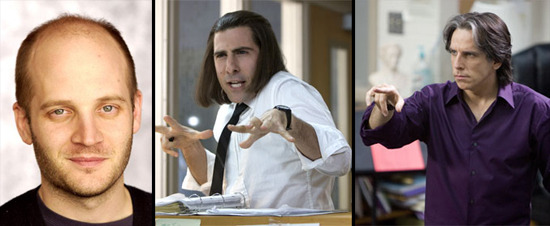 Not too long ago, Paramount Vantage seemed like one of the best faux-indie arms out there. As recently as 2007, the studio indie had two major heavyweight pictures: No Country For Old Men and There Will Be Blood. But the label was folded into the heaving, tentpole-happy bosom of Paramount Pictures, a process which has left pictures essentially orphaned, waiting to be dumped. One of them is Todd Louiso's The Marc Pease Experience, and the filmmaker is understandably frustrated by the decision.
Louiso previously directed Philip Seymour Hoffman in Love, Liza, and he's now got Jason Schwartzman, Ben Stiller and Anna Kendrick in The Marc Pease Experience, which will see release in only ten markets on August 21 — none of them being New York or Los Angeles. (Which ensures that not even critics — 'irrelevant', per Paramount's recent G.I. Joe actions — will have much of a chance to bring the film to anyone's attention.) The Playlist talked to Louiso, praised the script and reports this synopsis:
Schwartzman plays Marc Pease, a man 10 years out of high school and still living in the past when he was the star in his high school's musicals. During the course of one day, as Pease's former teacher/mentor Mr. Gribble (Stiller) oversees the opening night of another show, Pease finally exorcises his demons and realizes there's more to life than Broadway artistry.
Essentially, Paramount doesn't want to put any more money into the former Paramount Vantage films, and Louiso explains that he was stuck between the WGA strike and the death of Vantage.
We shot and were editing, then realized we needed to go back and add some stuff, which isn't uncommon, and then the writer's strike hit. So we had to wait for 6 months, then we got the footage in and it looked good. And it was while we were finding a release date that Paramount Vantage went under.
And so he's been stuck in a waiting pattern with a film that could easily die on the vine, regardless of quality. There's no trailer online and few promo photos — even digging up  a synopsis and cast list wasn't easy before The Playlist reported this story yesterday. "It's been really hard to accept that role [of just waiting helplessly for the thing to come out]," Louiso told the site. "To have complete control over it and then to have no control, and give it over, it's been tough."
Ironically, the more easily salable former Paramount Vantage pic The Goods: Live Hard, Sell Hard, is getting a big push from Paramount right now.