Lionsgate, Paramount And Universal Fight For Kick-Ass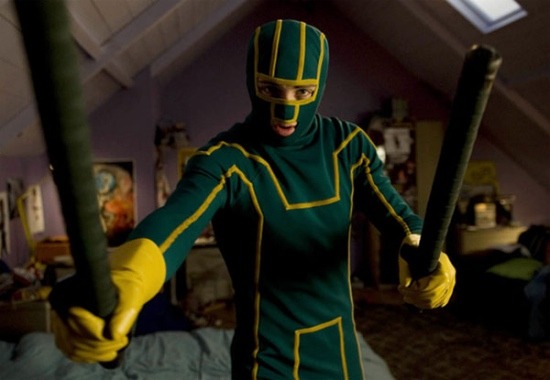 Footage from Matthew Vaughn's big screen adaptation of Mark Millar's comic book Kick-Ass rocked San Diego Comic-Con International 2009, topping most top ten lists for the Con. We raved about the footage in a previous video blog. Distributors are interested, but the film is not yet sold. Who is interested?
Risky Biz reports that the talks are down to three studios: Lionsgate, Paramount and Universal. Paramount is definitely my favorite of the three. Universal distributed the big screen adaptation of Mark Millar's Wanted, and likely would like to be in the Millar adaptation business. The film was independently funded because none of the studios wanted to tackle the story which fused ultra-violence with children (the be more specific, a 10 year-old who chops bad guys in half). But now that the film is completed, and the buzz is high, the studios are fighting to win the comic book property.:
Studios interested in "Kick-Ass" see a Vaughn pickup, even at a price in the solid seven figures and with a significant P&A commitment, as a way to plug a franchise-level property into their slate with comparatively little financial risk or production headaches.
Whichever studio wins, I assume the plan is to open the film in March 2010. The Zack Snyder 300/Watchmen slot could be a safe bet. But this is just speculation on my part.
Kick-Ass tells the story of (beware of possible comic book spoilers) "Dave Lizewski, a kid growing up in a rundown suburb of Americ. He isn't a gamer, he isn't a jock, he isn't a mathlete, he's just a regular kid. When he is not hanging out at the local comic store with his friends Todd and Marty, he is fantasising about his school teacher and Katie Deauxma, the class hottie. The only thing that is unusual about Dave is that about a year ago his Mother died. But somehow through this blend of normality, teenage angst and irritation at being continually mugged, Dave makes the decision to become a superhero' KICK ASS! Dave's first foray into being a Superhero results in him being stabbed and run over. When Dave recovers he realises he can't walk away from being a hero, and when he successfully steps in on a mugging he brings himself to the attention of the US media and Frank D'Amico could this be the guy who knicked his coke? As Dave gets sucked into the dark world of vigilante crime fighting he gains a sidekick named 'Red Mist'."