The Hurt Locker's Kathryn Bigelow And Mark Boal Re-Team For Triple Frontier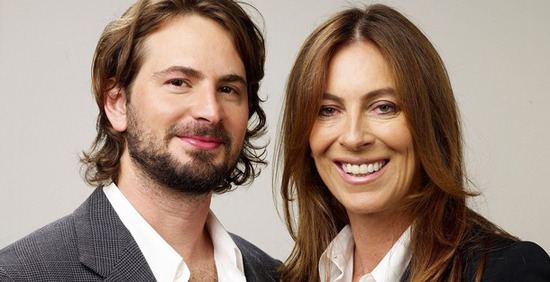 Kathryn Bigelow went six years between her last feature directorial effort (K19: The Widowmaker) and this year's incredible effort The Hurt Locker. But the wait won't be nearly as long for her next film. According to Variety, Bigelow and her Hurt Locker witer Mark Boal have been signed by Paramount to make action-adventure film Triple Frontier, "a high-stakes ensemble project."
Boal will once again write, and the trade says the story is set in the area where borders of Brazil, Paraguay and Argentina converge. The Iguazu and Paraná Rivers converge there, at the tip of a finger of Argentine land, and the confusion of borders ("la triple frontera") makes the strip a haven for organized crime. Unfortunately, we don't know much more about the film. Boal and Bigelow sold the story to Paramount, and they'll executive produce the project, but they're keeping additional details under wraps.
But given the realism that Boal scripted for The Hurt Locker and Bigelow's facility with action, we can speculate a bit about the film. The location is amazing, as among other sites it features the Iguazu Falls, one of the most amazing waterfalls in the world. Three border towns intersect in the frontier: Paraguay's Ciudad del Este, the largest, Argentina's Puerto Iguazú and Brazil's touristy Foz do Iguaçu. There are also Asian and Arab immigrant populations, and in 2006 the US Government noted the existence of Islamic groups in the region that were financing terrorist activities. A 2002 New Yorker article suggests that Hezbollah, the Islamic Jihad and Al Qaeda are all funded in part by criminal operations that center in the region.
Here's what the New Yorker describes:
A decaying iron bridge, the International Friendship Bridge, connects Foz do Iguaçu to its Paraguayan sister city, Ciudad del Este, the City of the East. Ciudad del Este is at the heart of the zone known as the Triple Frontier, the point where Paraguay, Brazil, and Argentina meet, which has served for nearly thirty years as a hospitable base of operations for smugglers, counterfeiters, and tax dodgers. The Triple Frontier has earned its reputation as one of the most lawless places in the world. Now, it is believed, the Frontier is also the center of Middle Eastern terrorism in South America.
Take that, add what we know Bigelow and Boal can do as seen in The Hurt Locker, and you can easily see the recipe for a compelling action/adventure film with a modern political undertone.