Jay Chou Cast As Kato In The Green Hornet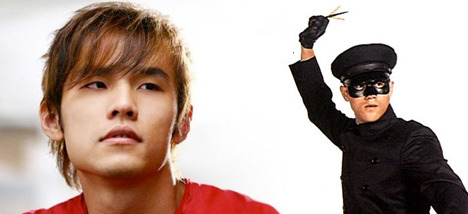 Columbia Pictures has confirmed that Taiwanese star Jay Chou (Curse of the Golden Flower ) has been cast as Kato in The Green Hornet. Stephen Chow had been previously attached to the role, but departed from the project shortly after stepping down from the director's chair. Official press release after the jump.
THE GREEN HORNET™" GETS HIS KATO IN TAIWANESE SUPERSTAR JAY CHOU
CULVER CITY, Calif., August 7, 2009 – After a worldwide search, Jay Chou, the multi-hyphenate singer-actor and a star throughout Asia, has joined the cast of Michel Gondry's The Green Hornet in the iconic role of Kato, it was announced today by Doug Belgrad and Matt Tolmach, presidents of Columbia Pictures.
Michel Gondry, the film's director, added, "Jay is incredibly unique and charming and fights like a wild dog! When I filmed him next to Seth, they had such great chemistry, and I knew the movie will be great."
Chou said, "It's an overwhelming experience to take on a role made famous by Bruce Lee. I won't try to be Bruce Lee's Kato – I will try to bring my own interpretation to the part. Of course, it's a dream role, and I'm looking forward to the challenge."
A classic character of film, television, radio, and comic books returns to the big screen in Columbia Pictures' feature film The Green Hornet, starring Seth Rogen as the vigilante crime-fighter. The film will be directed by Michel Gondry (Eternal Sunshine of the Spotless Mind) from a screenplay written by Seth Rogen & Evan Goldberg (Superbad, Pineapple Express), based upon "The Green Hornet" radio series created by George W. Trendle, and produced by Neal H. Moritz (The Fast and the Furious). The film is slated for release summer 2010.
A pop-star phenomenon throughout Asia, JAY CHOU brings unexpected gravity and depth to his acting roles. Born Chou Chieh-Lun in Taiwan, 1979, Chou began playing the piano at age four. His mother supported his musical gifts and he went on to master piano and cello. Music, songwriting, and basketball dominated his high school days, and he was first noticed in 1998 when a friend sang one of his pop compositions on a TV talent contest, accompanied by Jay on piano. Alfa Music launched Jay's career, first as a tunesmith and then as a singer. In 2000, his debut album "Jay" quickly propelled him to stardom with numerous hits. His unique musical style is a fresh-sounding fusion of eastern and western traditions featuring strong lyrics and a personal style of storytelling.
With his soulful voice and infectious tunes, his second album, "Fantasy," and seven subsequent albums, have continued to win legions of fans young and old throughout Asia. He has been the best-selling Mandarin artist in the world for the past nine years, with a busy performance schedule touring Asia and North America and numerous music industry awards.
Apart from many music videos, Jay began film acting in a starring role in Initial D (2005), a comedy-action hit in China. In 2006, he starred opposite Chow Yun-Fat and Gong Li in Zhang Yimou's The Curse of the Golden Flower. Since then, he starred in Kung Fu Dunk, and made his directorial debut and starred in Secret. He will next be seen in the Chinese film Ci Ling and in Yuen Woo-Ping's True Legend.