Lost Viral: Paul Scheer Threatened With Legal Action, Plans To Break Into Lost Production Offices?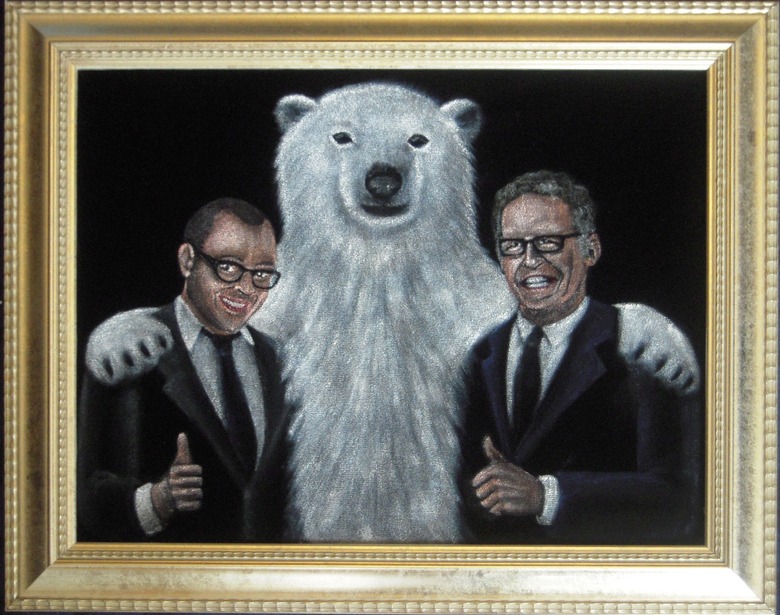 Here is a recap: At Comic-Con, Human Giant comedian Paul Scheer made an appearance during the Q&A of the Lost panel, announcing his new website DamonCarltonAndAPolarBear.com where he would be featuring Lost-inspired artwork. Earlier this week, we recieved a very strange FEDEX'ed letter from Paul, declaring his decision to become the Picasso of Pop Art, and devote his life to making Lost-inspired paintings. The website features a privacy policy from ABC, the network that airs Lost, which leads us to believe this is a viral marketing campaign for the tv show.

This morning I received an e-mail from Paul:
Hey Pete, I don't know if you have been follow the drama of the last few days on my Lost blog but I've been being harassed by this weird art dealer. I plan on trying to go to ABC today and get some answers,video will be coming soon! -P
Paul's e-mail was quickly followed by a real-life FedEx letter, which I had to sign for, from Ronie Midfew Arts, declaring that "Mr. Scheer is creating this LOST-inspired artwork without" ... "authorization." You can check out the full legal letter after the jump. The website for Ronie Midfew Arts only features the cryptic message "15 Will be lost  The 16th Will be Found". More after the jump.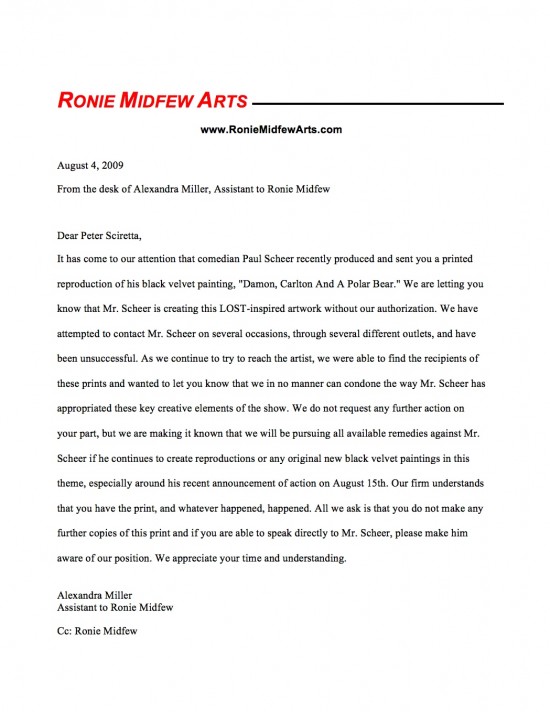 More bad news for Paul — Apparently an ABC intern sent him a photo of the Velvet Polar Bear Painting he presented to Damon Lindelof and Carlton Cuse at Comic Con, in the trash at one of the Lost production offices. Paul writes on his blog, "I know Damon and Carlton would never do this. They loved my painting. They must also be getting harassed by Ronie Midfew Arts. I'm going to find out the truth. I think it's time I paid Damon and Carlton a visit!"  I have a feeling that Paul Scheer is going to attempt to break into the Lost production offices. Video likely to follow. I have a feeling this is going to be fun.