Casting Notes: Liam Neeson, Lucy Punch And Deborah Ann Woll Take New Roles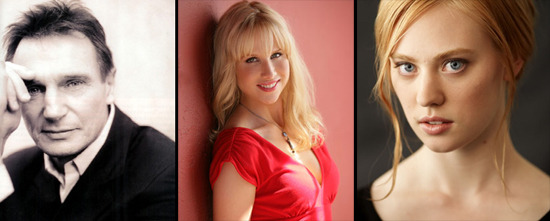 We've got a bunch of quick casting notes today for some projects about which there aren't a lot of details yet. First up is Liam Neeson, who is continuing his genre-ish run with Unknown White Male. After Neeson finishes Clash of the Titans and The A-Team he'll join this Jaume Collet-Serra (Orphan, House of Wax) picture about a doctor who is in a car accident only to wake up and discover his wife doesn't recognize him. Worse, she's living with another man who has taken his identity. Variety notes that the Oliver Butcher and Stephen Cornwell script is based Didier Van Cauwelaert's novel Out of My Head. Meanwhile, check out a new photo of Neeson as a funeral director in After.Life over at Bloody Disgusting.
After the jump, new projects for Lucy Punch, Woody Allen's replacement for Nicole Kidman, and True Blood's Deborah Ann Woll.
Lucy Punch became the new Nicole Kidman (sort of) when Kidman dropped out of Woody Allen's next movie, leaving the role open for Punch. Now she's taken to the long-gestating Dinner For Schmucks, about "the most pathetic guy ever to be invited to another man's weekly dinner party", to be directed by Jay Roach. She'll work alongside stars Steve Carell and Paul Rudd. The film is a remake of a 1998 French film Le diner de cons / The Dinner Game. [THR]
Finally, Deborah Ann Woll, who plays Jessica Hamby on True Blood, is joining Darren Lynn Bousman's remake of the Troma film Mother's Day. The original film was an early entry in the 'crazy family' slasher genre, with three girls running afoul of murderous brothers out to impress their crazed mum. For the remake a few new family members have been added to the clan of loonies; Woll plays the daughter. The picture shoots this fall for a spring 2010 release. [THR]