Richard Kelly Talks Box Release Shift And Soundtrack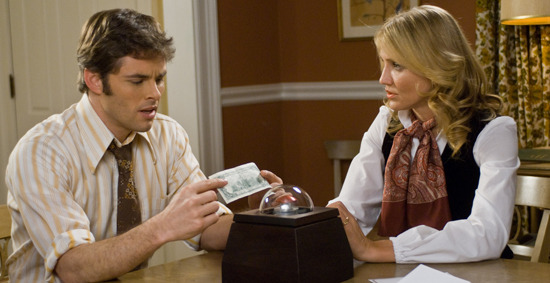 Last week Warner Bros made a few scheduling shifts, delaying Richard Kelly's sci-fi thriller The Box, once again. This time the film was only pushed back one week, from October 30th to a November 6th release. This film has been delayed so many times that I won't believe it is out until I see it on the big screen for myself. Director Kelly insisted on Twitter that the change was "good news" and that he was "much happier with this date!"
The Halloween weekend release date definitely hurt Kevin Smith's last film Zack and Miri Make a Porno. But instead of competing with Youth in Revolt, The Box will now be going head to head with Robert Zemeckis' 3D performance capture adaptation of A Christmas Carol You. I'm actually not sure what's better — competing withth in Revolt on Halloween weekend, or going head to head with Disney's 12-quadrant (yes, exaggeration) 3D holiday film. Personally, I'm more excited about The Box, and Back to the Future is my favorite film of all time. What does that say about Zemeckis recent filmography?
Today Kelly revealed five of the tracks from the soundtrack to his new film. Set in 1976, the film features music from the era. Kelly listed five of the songs that apear in the film, in chronological order. Here is the list:
Song #1: "SCARLET BEGONIAS" by THE GRATEFUL DEADSong #2: "BELL BOTTOM BLUES" by DEREK AND THE DOMINOSSong #3: "MUSTANG SALLY" by WILSON PICKETTSong #4: "CAN'T YOU SEE" by THE MARSHALL TUCKER BANDSong #5: "WHEN JOANNA LOVED ME" by SCOTT WALKER (song was released in the 60's)
Kelly says that they are working with "Win and Regine" (Arcade Fire) to release the score for the film.