Jason Segel Joins The Adventurer's Handbook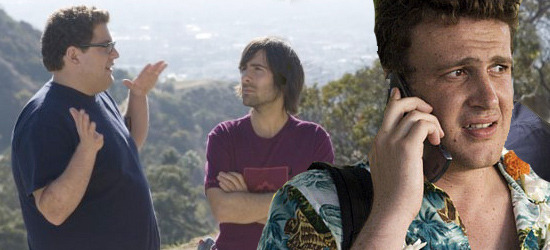 Jason Segel (Forgetting Sarah Marshall, I Love You Man) has joined the cast of  The Adventurer's Handbook. In February, Jonah Hill and his friend/writing partner Max Winkler (yes, Henry Winkler's son) sold a spec screenplay, originally titled Adventurer's Club, for a seven figure deal to Universal, with Lonely Island/SNL Digital Shorts/Hot Rod director Akiva Schaffer attached to direct. The story "centers on four 20-something guys who, inspired by a book [Mick Conefrey's non fiction handbook], set out overseas in search of a mysterious location described in the book." It has been described as "an edgy, broad comedy" likely to be R-rated.
According to The Hollywood Reporter, Segel will play one of the four friends, "a talented musician who never got his act together, becoming a backup piano player and an alcoholic." Hill plays an "engineer, isolated from his family," and  Jason Schwartzman will play "a spoiled and cowardly three-time Grammy winner." You can start to see how this dynamic will work, and Schwartzman and Segel seem to be specifically cast to take advantage of their musical backgrounds (which almost guarantees a hilarious musical sequence).
Unless Winkler plans on making his acting debut (actually, he did have a cameo in Cop and 1/2), then a fourth actor has not yet been announced. Universal hopes to have the film in production by early next year, which means we'll likely learn who the fourth member of the group is pretty soon.