James McTeigue Reveals Next Project, The Raven, Updates Altered Carbon

We may receive a commission on purchases made from links.
Today I had the opportunity to talk with Ninja Assassin and V For Vendetta director James McTeigue. The full interview won't be ready until later this week. For now, I thought I'd pass along some of the juicy news tidbits about some of his upcoming projects.
As many of you know, McTeigue started in Hollywood as a second assistant director on films like Dark City, and made a name for himself as the first assistant director on The Matrix films. He famously took the reigns from The Wachowski Brothers, directing  big screen adaptation of Alan Moore's comic book V For Vendetta (currently ranked #178 on IMDb's top 250 of all time). His latest film, Ninja Assassin, hits theaters on November 25th. I caught a sneak preview screening during Comic-Con, and while I'm barred from reviewing the movie, I will say that the action is bloody awesome and worth the price of admission alone.
What's next for McTeigue? The filmmaker, for the first time ever, reveals details about his next project — James is currently casting a period thriller titled The Raven, a fictionalized account of the final five "mysterious" days of Edgar Allan Poe's life. Apparently the famous writer joins the hunt for a serial killer whose murders are inspired by his stories.
More details on The Raven, and an update on Altered Carbon, available after the jump.
"It's like the poem, The Raven, itself, crossed with Se7en. It should be pretty cool. The script is really good and everyone responds to it really well. I'm in the middle of casting."
The screenplay is written by Hannah Shakespeare (who wrote the 2005 drama Loverboy, and was a story editor on Bionic Woman and Ghost Whisperer) and Ben Livingston. Machinist/Session 9 director Brad Anderson had been previously developing the project. For those who haven't read The Raven, or at very least haven't seen the Simpsons Treehouse of Horror episode that parodied the famous poem, click here now.
The real death of Poe was also mysterious. The writer was discovered on the streets of Baltimore in great distress and in need of "immediate assistance." He was wearing someone else's clothes and repeating the name "Reynolds". He died shortly after in hospital, never able to explain what had happened.
McTeigue has a lot of exciting options on his plate, and I'm sure he will probably be offered a few more action films once Ninja Assassin is released. But I'm hoping he gets to Altered Carbon.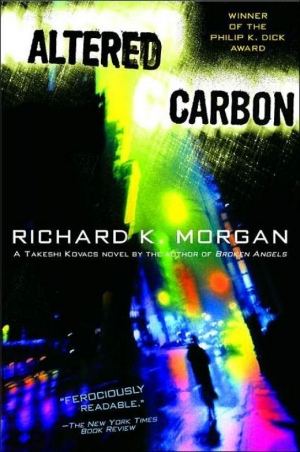 McTeigue was working on developing another project just as the actor's strike began, when the opportunity to direct Ninja Assassin presented itself. The project was another Joel Silver production, an adaptation of Richard Morgan's novel Altered Carbon. The hard-boiled sci-fi story is set 500 years in the future when death has been rendered almost obsolete. The London Times called the book (available for around $10 on Amazon) a "seamless marriage of hardcore cyberpunk and hard-boiled detective tale." Here is the quick plot description from the book's publisher:
"In the twenty-fifth century, humankind has spread throughout the galaxy, monitored by the watchful eye of the U.N. While divisions in race, religion, and class still exist, advances in technology have redefined life itself. Now, assuming one can afford the expensive procedure, a person's consciousness can be stored in a cortical stack at the base of the brain and easily downloaded into a new body (or "sleeve") making death nothing more than a minor blip on a screen. Ex-U.N. envoy

Takeshi

Kovacs

has been killed before, but his last death was particularly painful. Dispatched one hundred eighty light-years from home, re-sleeved into a body in Bay City (formerly San Francisco, now with a rusted, dilapidated Golden Gate Bridge),

Kovacs

is thrown into the dark heart of a shady, far-reaching conspiracy that is vicious even by the standards of a society that treats "existence" as something that can be bought and sold. For

Kovacs

, the shell that blew a hole in his chest was only the beginning..."
Sounds like a pretty awesome concept for a sci-fi film, and thankfully it sounds like McTeigue is still hopeful about bringing Carbon to the big screen.
"I still hope to make [Altered Carbon] with Joel [Silver]. There is a really good script that I've developed for a while, and I'd love to do that when the time is right, and hopefully that time will be shortly. We've started actively talking about that again."
I'm not sure which project I'm excited about more.