This Week In DVD & Blu-Ray: Flight Of The Conchords, The Soloist, Race To Witch Mountain, And More
We may receive a commission on purchases made from links.
This Week in DVD & Blu-ray is a column that compiles all the latest info regarding new DVD and Blu-ray releases, sales, and exclusive deals from stores including Target, Best Buy and Fry's.
Please don't take the commentary on the movies and TV shows too seriously, as they're meant not to be reviews but rather previews that include the general thoughts and ramblings of a twice-committed DVD addict. The categories represent solely the author's intentions towards the films at hand, and are in no way meant to be a reflection on what he thinks other people should rent or buy. So if he ends up putting a movie you like in the "Skip it" section without having seen it, please keep in mind that the time you could spend leaving a spiteful but ultimately futile comment could instead be used for more pleasant things in life. Like buying DVDs.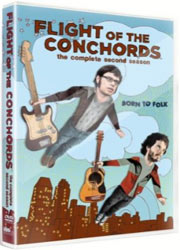 FLIGHT OF THE CONCHORDS (SEASON 2)
It's sad to think that this may be the last we see of Flight of the Conchords (in TV show form, anyway), but at least they went out strong, providing us with another wonderful season of offbeat, deadpan hilarity. ...It isn't perfect, however. Unlike the first season, where writers/creators/stars Jermaine Clement and Bret McKenzie already had the songs and needed to find a way to craft the episodes' storylines around them, this time around, all of their songs were created exclusively for the new season. As such, the songs often tend to relate rather specifically to events taking place in the episodes, and a number of the tracks don't hold up nearly as well on their own because of it. This is a minor quibble though, and isn't nearly enough to detract from what's otherwise a brilliant final outing from everyone's favorite (and maybe only) New Zealand comedy duo.
Blu-ray? No.Notable Extras: Deleted scenes, a documentary, and more.
BEST DVD PRICE
Target
Best Buy
Fry's
$19.99
$15.77
Amazon – $17.99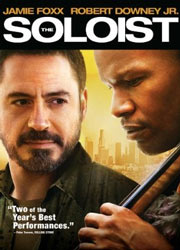 THE SOLOIST
Movies like this are why I'm glad film critics exist. It's the type of film that, after having watched the trailer, I'm convinced I should want to see more than I actually do. It has all the makings of the great film: it's directed by Joe Wright (Atonement), it stars two terrific actors (Robert Downey Jr. and Jamie Foxx), and it features a dramatic, emotional storyline pulsing with Oscar potential. But something about it just feels... kind of bland. And lo and behold, the reviews support this suspicion. It should still serve as a worthwhile rental, to be sure, but I don't suspect I'll be overwhelmed with grief that I ended up missing it in theaters.
Blu-ray? Yes.Notable Extras: DVD – Commentary by director Joe Wright, deleted scenes, and featurettes ("An Unlikely Friendship: Making The Soloist", "Kindness, Courtesy and Respect: Mr. Ayers + Mr. Lopez", "One Size Does Not Fit All: Addressing Homelessness in Los Angeles", "Beth's Story"). Blu-ray – Everything from the DVD, plus a "Juilliard: The Education of Nathaniel Ayers" featurette.
BEST DVD PRICE
Target
Best Buy
Fry's
$16.99
$15.77
Amazon – $16.99
BEST BLU-RAY PRICE
Target
Best Buy
Fry's
$26.99
$25.77
Amazon – $26.99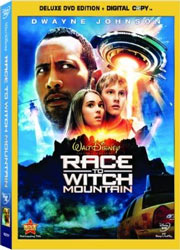 RACE TO WITCH MOUNTAIN(Available as single-disc and Deluxe Edition)
This is your standard, inoffensive kid's film fare. There's nothing particularly interesting or unique about it, and the only reason anyone who isn't under 13 should bother with it is if they're a parent who's being forced to sit through it with their under-13-year-old. Keep in mind, this is coming from somebody who legitimately loves and rewatches movies like Zathura, Sky High and The Monster Squad on a regular basis. Unlike those films, Race to Witch Mountain is simply yet another poorly written, sloppily put together Disney Channel-esque "family adventure". Not all-out terrible by any means, but not good either.
Blu-ray? Yes.Notable Extras: DVD – Nothing on the single-disc. 2-Disc includes deleted scenes with commentary by director Andy Fickman, a Dylan & Cole Sprouse: Blu-ray Is Suite featurette, bloopers, a Learn How To Take your Favorite Movies On The Go feature, and a digital copy of the film. Blu-ray – Everything from the 2-Disc, plus a Backstage Disney: Which Mountain? featurette, and a copy of the standard definition DVD.
BEST DVD PRICE*
Target
Best Buy
Fry's
$15.99
Amazon – $15.99
*Does not include 2-Disc Edition, which costs $22.99 at each of the listed stores (including Amazon).
BEST BLU-RAY PRICE
Target
Best Buy
Fry's
$25.99
Amazon – $25.99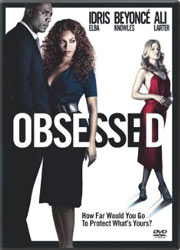 OBSESSED
I'd like to say that I'm always up for a trashy, exploitative B-movie thriller, but a movie like Obsessed makes me want to reconsider that stance. We've already seen this all before, a dozen times over, and without the suck-factor no less. Getting to enjoy a 5-minute girl-on-girl bitch-fight between Beyoncé and Ali Larter is not nearly enough incentive to trudge through the rest of this by-the-numbers silliness.
Blu-ray? Yes.Notable Extras: DVD & Blu-ray – 3 featurettes ("Girl Fight!", "Playing Together Nicely", "Dressed to Kill").
BEST DVD PRICE
Target
Best Buy
Fry's
$15.99
Amazon – $15.99
BEST BLU-RAY PRICE
Target
Best Buy
Fry's
$25.99
Amazon – $25.99
EXCLUSIVE DEAL:What? $5 Fry's Gift Card with purchase of DVD or Blu-ray.Where? Fry's.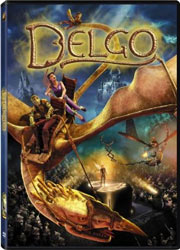 DELGO
Back in December, Delgo (a CGI fantasy adventure film with a $40 million budget) opened in 2,160 theaters and grossed a total of $694,782. It also set the record for Worst Wide-Release Opening of All-Time. I suppose I could also discuss the actual film, but let's face it: the only interesting thing worth mentioning about this film is its stunning failure at the box office.
Blu-ray? No.Notable Extras: Audio commentary with the directors, featurettes ("Behind the Scenes", "Sounds of Delgo", "Meet the Characters", "See the Creatures"), a Chroma Chameleon animated short, and deleted scenes with an additional 14 minutes of footage.
BEST DVD PRICE
Target
Best Buy
Fry's
N/A
$14.99
$17.99
Amazon – $14.99
Other noteworthy DVD (and Blu-ray) releases this week...Tim and Eric Awesome Show, Great Job! (Season 3) – Mutant Chronicles [Single-disc DVD / 2-Disc DVD / Blu-ray] – August – Labor Pains – Fragments – The Mysteries of Pittsburgh – The Chaos ExperimentOther noteworthy Blu-ray-specific releases this week...Sling Blade – Big Trouble in Little China – My Cousin Vinny

NOTE: Some deals may be in-store only.

$14.99 – Blu-ray sale: Mission: Impossible III, Top Gun, Shooter, American Gangster, Kingdom of Heaven (Director's Cut), Hulk, Casino, Old School$4.75 – Minority Report, Dodgeball, and more...

$3.99 – Terminator 2, Memento, Big Fish, Troy, Master and Commander, Les Miserables, Green Street Hooligans, Talladega Nights, Hitch, The Pursuit of Happyness, The Interpreter, Madagascar, Over the Hedge, Wallace & Gromit: The Curse of the Were-Rabbit, and more...$8.99 – Tropic Thunder, Pineapple Express, Step Brothers, Burn After Reading, Wanted, Hellboy II, Eagle Eye (2-Disc Special Edition), Iron Man, Kung Fu Panda, Madagascar 2, Casino Royale, Superbad, Across the Universe, Death Race, 3:10 to Yuma, Hancock, Lakeview Terrace, Killshot, and more...