Monster Squad's Fred Dekker Writing Cliffhanger Reboot/Sequel?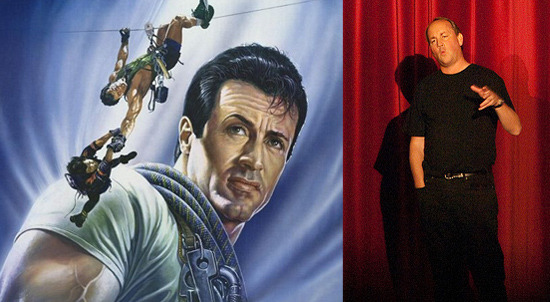 Back in May, StudioCanal announced that they would be teaming with Neal Moritz's Original Films to reboot Cliffhanger. At the time, not much was known about the project aside from the fact that it would be big budget and would center on a group of young climbers on "multiple cliff-face locations." At the time, Moritz said that they were searching for a screenwriter, and hoping to begin production in 2010.
Our friends at FirstShowing might have come across a scoop regarding the film's scribe. While attending a Santa Monica screening of The Monster Squad, director Fred Dekker revealed that he is "currently writing Cliffhanger 2." It is interesting that he referred to the project as "Cliffhanger 2" and not a remake or reboot of Cliffhanger. Is it possible that the story has Sylvester Stallone set to return as Gabe Walker? Or are we reading too much into a quick comment. Probably the latter.
But the even more surprising part is that Dekker's last screenwriting credit was for Robocop 3 in 1993. Dekker's filmography also includes House, If Looks Could Kill, and Ricochet, all of which he wrote, as well as Night at the Creeps, The Monster Squad, and Robocop 3, for which he wrote and directed.
I just hope that the reboot (or sequel?) won't employ a lot of greenscreens and computer generated action sequences, as the location danger was one of the reasons people connected with the original. The original film i best known for the mountain-set stunts and breathtaking scenes which were filmed on Italy's Cortina d'Ampezzo. To this day, the film still holds the record for the most costliest aerial stunt ever performed in a movie, as listed in the Guinness Book of World Records. Stuntman Simon Crane was paid $1 million to cross between two planes at an altitude of 15,000 feet.